Buddha-yatra  |  1 – 13 December 2012
Ānanda, there are four places that the faithful should visit with feelings of reverence.  What are the four?
"Here the Tathāgata was born" is the first.
"Here the Tathāgata attained supreme enlightenment" is the second.
"Here the Tathāgata set in motion the Wheel of Dhamma" is the third.
"Here the Tathāgata attained the state of Nibbana in which no element of clinging remains" is the fourth. 
DN 16: Mahāparinibbāna Sutta
A "Buddhayatra" is a journey of discovery of the Buddha, Dhamma and inevitably oneself, as a pilgrim conscientiously treads in the footprints of the Blessed One in the sanctified "Middle Land".  So it was with great anticipation, faith and devotion that the pilgrims, originating from various parts of Peninsular Malaysia, prepared to embark on the pilgrimage to India and Nepal in early December 2012.
Mahabodhi Temple houses the diamond throne (Vajrasana) and the holy Bodhi tree.
Calming the senses and reaching within, the pilgrims sought a greater understanding of the life of the Buddha and a deeper realisation to see the light of Dhamma.  For many of us, this was a once-in-a-lifetime opportunity to visit and pay respect at the holy sites.  Led by Nalanda Founder, Bro. H S Tan, with his delightful commentary and insightful teachings, it almost felt like we were back in the time of the Buddha, blessed by His presence and the everlasting Dhamma.  What joy!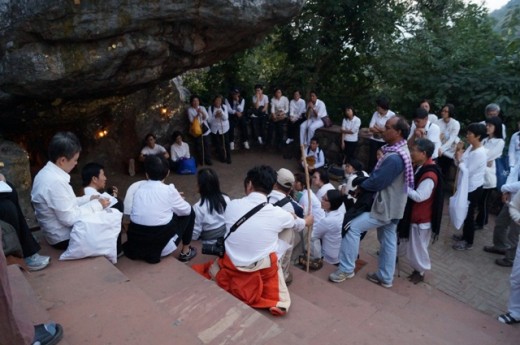 At a cave near Rajgir, the Venerable Sariputta attained full Arahatship while fanning the Lord Buddha and listening to a discourse being given to the ascetic Dighanakha.
During this journey of discovery, there was also a sense of urgency that arose in the pilgrims.  Having seen how great, big cities of the past are now reduced to ruins or nothingness, it began to sink in that impermanence is not to be taken lightly, and time is of the essence.  With the right mental attitude, nearly everyone in the pilgrimage group undertook the Eight Precepts in an effort to exercise restraint of the senses, practise morality and maintain wholesomeness of the mind.  With great effort sown, great too were the fruits reaped!
Offering Sanghika Dana in Varanasi with reverence and faith.
Paying homage at the holy sites and performing meritorious actions together, the camaraderie and new friendships with fellow kalyanamittas (spiritual friends) cultivated throughout this Buddhayatra rounded off the pilgrimage with a warm and joyful spirit.  Special heartfelt thanks to Bro. Tan, whose wonderful sharings on the Buddha and Dhamma were so injected with liveliness, faith and compassion.  Thank you and sadhu anumodana!