In late August, Nalanda founder Bro. Tan led a study tour to Borobudur, Yogjakarta and Solo; the trip was jointly organised by Buddhist Fellowship Singapore and Nalanda Institute Malaysia.  With Bro. Tan's informative and skilful explanations, participants were as though transported back in time to over a thousand years ago to vividly visualize Javanese and Buddhist arts and culture.
The highlight of the tour was a visit to Candi Borobudur, the single largest Buddhist monument in the world which was constructed 1,200 years ago.  With over 500 Buddha statues spread across the site and 1,460 relief carvings set atop a hillock, Candi Borobudur enthralled everyone with its ancient aura and majestic beauty. Surrounding candis such as Mendut, Sewu, Lumbung, Plaosan and Kalasan were equally awe-inspiring with their unique details.
Visits to local Buddhist communities at Vihāra Mendut, Vihāra Dhammasundāra in Solo and Vihāra Bodhivamsa in Klaten provided opportunities for exchange of ideas and strengthened the bonds of spiritual friendship amongst us.  At Vihāra Bodhivamsa, host Professor Dr. Lanny Anggawati shared that it is a blessing that we were able to meet with the Dhamma this life and to be inclined towards practice.  Regardless of how little we know or understand the Dhamma, everyday practice will result in spiritual progress.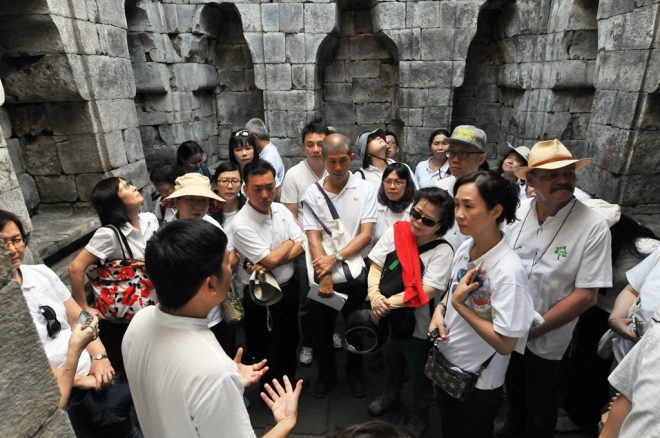 At the conclusion of this amazing trip, participants shared how they now have a better understanding and appreciation of Buddhist history in our region and renewed inspiration for their personal practice.  They also expressed their gratitude to Bro. Tan for his teaching, explanation, guidance and care throughout the entire journey.
We rejoice in their learning and wish that many others will benefit from such study tours in the future.  Sadhu anumodana!