In honour of the late Venerable Dr. K Sri Dhammananda Sangha Nayaka Thero and to commemorate the sixth anniversary of his passing away, the Buddhist Maha Vihara Brickfields organised a Buddhist Forum on Friday, 24 August 2012 to discuss the topic, "Being an Agent of Change to Create a Better World".
Three prominent Buddhist leaders were invited to speak at the Forum – Yang Berbahagia Dato' Dr. Victor Wee, President of Buddhist Gem Fellowship; Mr. Chim Siew Choon, President of Subang Jaya Buddhist Association; and Bro. Tan Ho Soon, Founder of Nalanda Buddhist Society – who were all students and disciples of the late Venerable Dhammananda.
The three speakers and the Forum's moderator, Mr. Benny Liow (second from right).
The audience in the packed hall sharing a light moment.
Bro. Tan posed the following thought-provoking questions to the audience:
How many people are satisfied with the present state of the world?
Do you think the world can be made a better place?
How many of us have done something to make the world a better place?
The Buddha-to-be had this recurring thought, "What else can I do today for the betterment of the world?"  This was the manifestation of Maha karuna – great compassion.  As Buddhists, we should be thinking rightly, wisely and righteously. Given that the world consists of people, if we can make people better, then the world would eventually become a better place.
When the Buddha was asked to perform miracles to impress people towards embracing Buddhism, He refused and said that He only approved of the Miracle of Education – gradual guidance that make people better.  Hence, education is the key to transform the world into a better place.  But education itself would not be potent enough to change the world without individual cultivation.
Thus, Bro. Tan shared this simple but meaningful equation:
Education + Cultivation → Transformation
Individually, we must first be well-established in the right path, such that the wise cannot find fault in us.  Thereafter we can propagate right education to the world.  Through education, people will know what to cultivate and practise, and how to tell what is right and wholesome. This eventually leads to personal and social transformation, and finally help create a better world.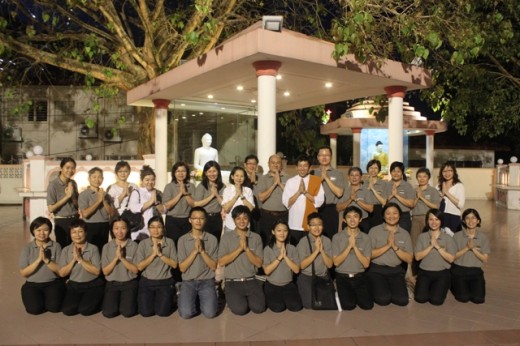 May we experience the miracle of education, and through our cultivation, gain transformation!