Nalanda founder Bro. Tan will be traveling to Singapore and Johor Bahru to deliver a few talks this weekend.  We invite everyone to attend the talks and meet with such learned teacher.  His schedule of talks are as follows.
Dhamma Forum for youths at "CAKKA 2017"
Sunday, 29 October  |  8.00 am – 5.45 pm  (for the entire Conference)  |  SUTD
Topic :  "Finding balance between worldly success and spiritual growth"
Bro. Tan will join Malaysian speakers Datuk Seri Dr. Victor Wee and Dr. Punna Wong at the CAKKA Conference to be held at Singapore University of Technology and Design, Changi.  Also at the conference are Ven. Ajahn Brahmavamso, Ven. Geshe Ngawang Samten, Ven. Dr. Dhammasami, and other prominent teachers.
Dhamma talk at Buddhist Fellowship (West) Centre, Singapore
Monday, 30 October  |  7.30 pm – 9.00 pm
Topic :  "A Meaningful Life"
Dhamma talk at NEO Centre, Johor Bahru
Wednesday, 1 November  |  7.40 pm – 9.40 pm
Programme :  Meditation, Dhamma teaching, and Q&A session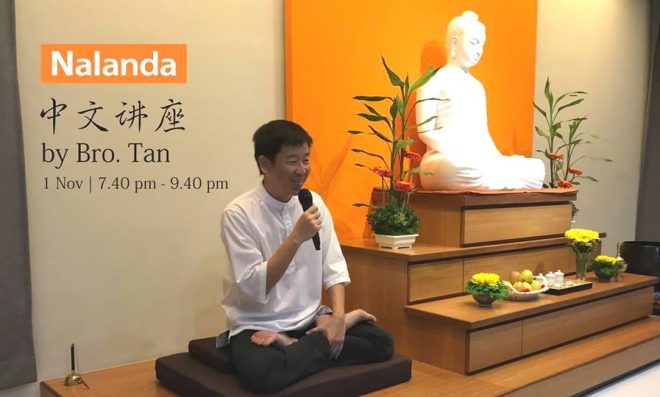 In addition to the above, Bro. Tan will also conduct briefing sessions for pilgrims embarking on the pilgrimage to India.  The briefing sessions will be held on:
Saturday, 28 October  |  4 pm – 5 pm  |  Buddhist Fellowship, Singapore
Wednesday, 1 November  |  6 pm – 7 pm  |  NEO Centre, Johor Bahru
Share this news with your friends and contacts as well.  Thank you and mettā.