'Sangha Day' is an annual celebration at Nalanda honouring the virtues and contributions of the monastic community.  Buddhist devotees express gratitude to monks and nuns who strive diligently in practising the Dhamma, and teaching it for the benefit of mankind, by providing them with four necessary requisites – food, robes, shelter, and medicine.
Nalanda Kuala Lumpur Branch will be observing 'Sangha Day' on Sunday 12 November at NEO Centre Happy Garden.  However, the main celebration by Nalanda Buddhist Society will be held on Sunday 19 November at Nalanda Centre, Sri Serdang.  On those days, devotees can offer robes, food, requisites, or donate towards the Sangha Fund for monks' educational and supportive needs.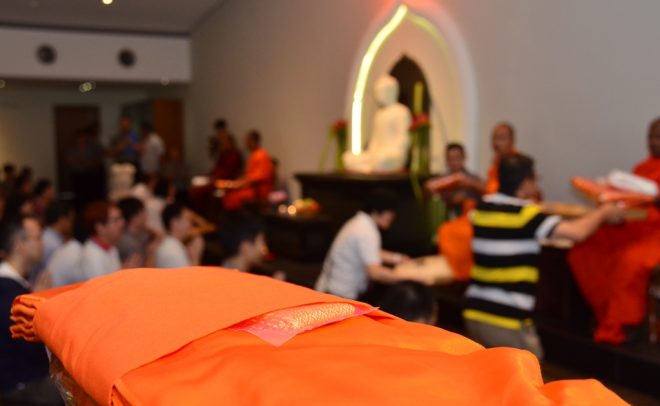 For your convenience, sets of robes and requisites can be obtained from Nalanda Centre before those dates.  Contributions towards the Sangha Fund and 'Wisdom Park' monastery land can be made at the Management Office as well.
We invite you and your family members to participate in this auspicious and meritorious programme.  With our support, may the Sangha live happily, and may the Buddha-Sāsanā long endure!  Sadhu.