Namo Buddhaya!  This was the standard greeting when we met with the local Buddhists in Indonesia, adults and children alike.  Warmly welcomed and hosted by Buddhist devotees in Jakarta, Maribaya and Karawang, the study visit to Indonesia was a meaningful and fulfilling experience.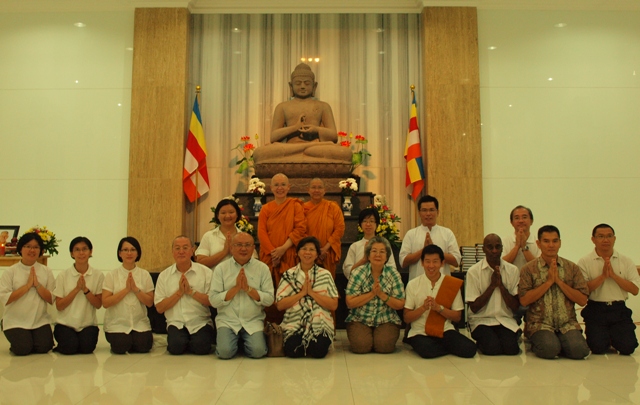 Nalandians with Ayya Santini, Ayya Silavati and devotees of Vihara Sanghamitta, Karawang.
On a special mission under the 'Nalanda Project', led by Bro. Tan Ho Soon, a team of Nalandians including all Division Heads and other Officers went on a 5-day study tour to visit and interact with the Buddhist community leaders in Jakarta, Indonesia from 26 – 30 October 2012.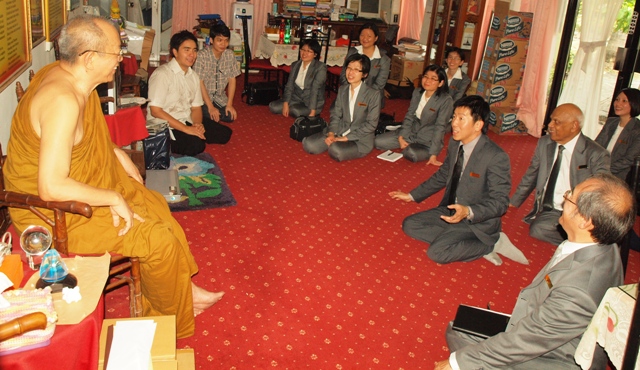 Visit with Ven. Sukhemo, the most senior bhikkhu of the Sangha Theravada Indonesia, who resides at Vihara Dhammacakkha.
The delegation had a meeting and interactive session with the leaders of Majelis Agama Buddha Theravada Indonesia (Magabudhi).  Being a visionary organisation which trains lay Dhammadutas (ambassadors of the Dhamma), the Nalandians took this opportunity to engage with the committee members to better understand the philosophy and systems of the organisation.  Through the discussion and interaction, we heard about the development of Theravada Buddhism in Indonesia.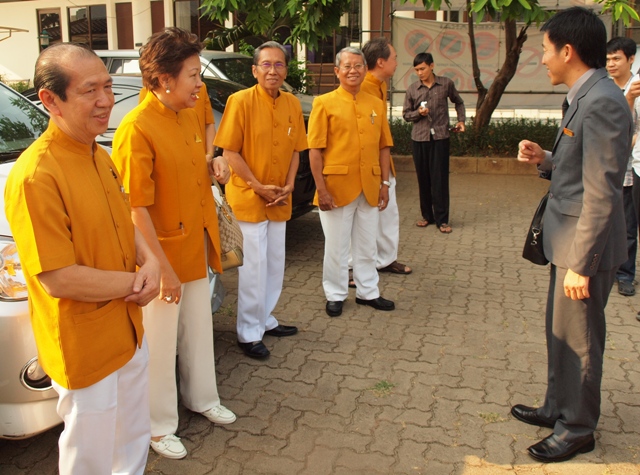 A warm welcome from the Panditas of Magabudhi.
We also made a trip to the Narada (Buddhist) School and met with its founder and school teachers.  Later, we had a dialogue with PATRIA, the Youth Movement of Indonesian Theravada Federation.  We learnt about the uniting force among Indonesian Buddhist youths, who came from different areas of Indonesia, and their successful propagation programmes.
Teachers of Narada (Buddhist) School took time during the school holidays to beautify their classroom (e.g. the wall painting) according to the theme of the year.
Participating in several pujas conducted by local Buddhists in different temples and centres, as well as the Uposatha full-moon puja in Vihara Sanghamitta, Karawang on 29 October, we were impressed by their discipline and standardised chanting harmony throughout the various viharas.
This trip opened up new avenues of research and collaboration in propagating the Buddha-Dhamma.  We valued the opportunity to get to know the Theravada Sangha and lay communities who have put in tremendous effort and hard work in uniting the Theravadan Buddhists in Indonesia.
"For the good of many, for the happiness of many, out of compassion for the world, keep the Wheel of Dhamma Turning!"