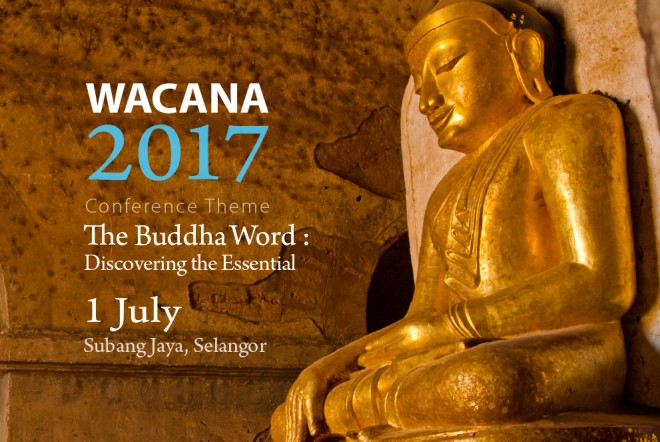 Nalanda Institute officers have been meeting for the past few months to prepare for WACANA 2017 – the premier Malaysian conference where the Sangha and laity gather to discuss pertinent issues that affect the Buddhist movement.  This year's WACANA Conference will be the fifth since 2007.  It is scheduled to be held on Saturday, 1 July 2017, in Subang Jaya, Selangor.  The theme for the conference is "The Buddha Word – Discovering the Essential".
The objective of the conference is to address the challenge many people face today in learning about Buddhism – what exactly did the Buddha teach?  What teachings, doctrines, and practices constitute the 'Buddha Word'?
Given the rise of false teachings and 'pseudo-Buddhism' nowadays, no wonder there is so much confusion among the community when it comes to the practice.  Worryingly, what sounds 'Buddhistic' may not be the real teachings of the Blessed One after all.
WACANA 2017 aims to tackle this critical issue by hosting an illustrious panel of speakers to address it.  Among the presenters at the conference are senior Sangha members and prominent leaders of the lay community.  The Theravada Buddhist Council of Malaysia is supporting Nalanda Institute in organising the conference.
We invite all concerned Buddhists to attend WACANA 2017 so that we can pool our ideas and precious resources to propagate the true teachings of the Buddha for generations to come.  Registration details will be forthcoming in late February.  Thank you.