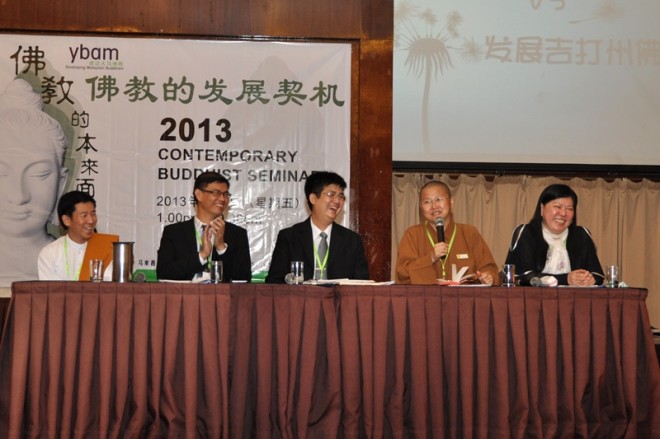 [From Left:] Bro. Tan, Bro. Goh (YBAM President), Bro. Tan Keng Liang (YBAM Kedah Chairman), Venerable Jue Cheng, and Dr. Hea Ai Sim were the panelists in the final discussion session.
On 8 March, the Young Buddhist Association of Malaysia (YBAM) Kedah State Liaison Committee organised a fruitful one-day seminar to discuss the development of Buddhism in the state. This is one of the most important events in the Buddhist movement in this northern state in recent years. The seminar was held at Cinta Sayang Resort, Sungai Petani, and was participated by 230 attendees representing 33 Buddhist societies and 3 university Buddhist groups across Kedah. 
One for the album!  Bro. Tan and UNIMAP Buddhist students taking a group photo.
YBAM Kedah invited 4 notable Buddhist leaders in Malaysia to speak at the seminar – Venerable Jue Cheng, the Chief Superintendent of Fo Guang San Malaysia & Singapore; Bro. Goh Qing Song, President of National YBAM Committee; Dr. Hea Ai Sim, President of Hilir Perak Buddhist Association; and Nalanda's founder, Bro.Tan Ho Soon. The 2 sessions of the forum were moderated by Mr. Chong, President of Central Kedah Buddhist Association; and Bro.Chong Hung Wang, former President of YBAM.
Smiles all round with Nalandians and Ven. Jue Cheng
It was truly an inspiring gathering of like-minded Buddhist leaders and movers, both young and old, to rejuvenate the learning and propagation of Buddhism locally. Nalanda wishes to thank YBAM Kedah for inviting us to be one of the presenting organisations at the seminar. It was a great honour and pleasure being part of this programme. Sadhu anumodana to the capable organisers and our wonderful hosts in Kedah!
Momentos presented to speakers and moderators, from left: Dr.Hea Ai Sim, Bro.Goh (YBAM President), Bro.Tan Keng Liang (YBAM Kedah Chairman), Venerable Jue Cheng, Bro.Tan, Mr.Chong, and Bro.Chong Hung Wang.