Nalanda's e-Run 2017 concluded joyfully on Sunday 16 April, with more than 2,000 people having a fun day working out with family and friends, while supporting holistic education for the community.
The morning weather in Sri Serdang was perfect for e-Run.  The crisp dawn air, cooled by the previous night's downpour, was truly refreshing for participants, volunteers and supporters who thronged Nalanda Centre for the charity event.
70 organisers and volunteers stayed overnight at Nalanda so that they can help prepare for the event at the first crack of dawn.  Other volunteers started arriving at 5.30am, and everyone joined in a pūja led by Nalanda founder Bro. Tan to welcome a splendid new day.
At 6.45am, energetic Nalandian youths led everyone in a mass aerobics exercise to warm up for the run.  With a concise speech by Organising Chairman Bro. Vincent Lee to thank everyone, and the singing of the national anthem, the eager runners were flagged off at 7.10am.
There were a total of 12 categories for individual participants according to gender and age, and a "Fun-Run" team event for groups of family and friends.  First off the block were the 10km male and female runners.  The next flag-off were for the 5km runners; while the colourful "Fun-Run" teams were the last to leave the starting post.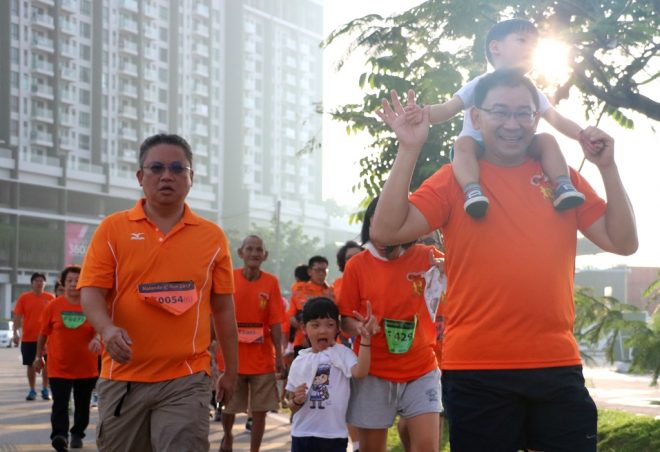 We would like to express our deep appreciation and gratitude to all sponsors and runners from near and far for your enthusiastic support.  We also wish to thank all our hard-working volunteers and organisers who laboured for months to prepare for this big event. Your dedication and selfless spirit was simply amazing.  Thank you all!