Nalanda Education & Outreach Centre, Kuala Lumpur
Nalanda Kuala Lumpur Branch
Establishment
On 11 December 2011, Nalanda Buddhist Society opened the first of its Education & Outreach (NEO) Centres at 524A, Jalan Riang 12, Taman Gembira (Happy Garden), Kuala Lumpur. NEO Centre Happy Garden caters to a large Buddhist population in the vicinity of Happy Garden, Taman OUG, Sri Petaling and Kuchai Lama, providing another much-needed place for the community to learn and understand Buddhism.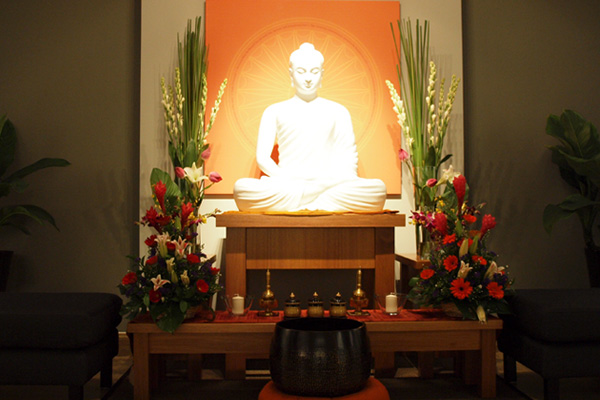 Community Services
The NEO Centre @ Happy Garden offers the following services to the community :
Weekly Dhamma classes for primary school children aged 10 – 12, conducted by facilitators of Nalanda Dhamma School.
Free academic tuition classes for both primary and secondary school students under the Nalanda Free School Project.
Periodic meditation sessions together with Dhamma talks for the general public.
Monthly religious services, alms and robes offerings to the Sangha.
A well-stocked library and comfortable reading lounge for the public, operated by Pustaka Nalanda. This branch library of Pustaka Nalanda carries more than 1,000 titles as of 10 September 2015.
Monthly Alms-round
On the first Saturday of every month, a Pindacāra (monks going on alms-round) is organized at the morning market in neighbouring Taman O.U.G. from 8.30am to 9.15am, followed by the Happy Garden market from 9.30 to 10.00am.  Thereafter, there will be a Dhamma talk, as well as Dāna (food offering to monks) at NEO Centre Happy Garden, from 10.15am onwards.  All are welcome to participate in these meritorious deeds.