Pustaka Nalanda - The Library
Pustaka Nalanda is an integral part of Nalanda Buddhist Society in fulfilling its objectives to promote learning, study, practice and understanding of Buddha's teachings. It provides correct and quality learning resources and materials to support educational programmes offered by Nalanda Institute, Nalanda Dhamma School, Nalanda Free School and other Nalandian divisions/departments. Thus, the Library is an important component in making Nalanda a centre of excellence in Buddhist education.
Pustaka Nalanda was previously a department under the management of Nalanda Institute.  It was upgraded and redesignated as a separate Nalandian division on 1 May 2011. Bro. Ananda Fong was appointed Pustaka's first Director.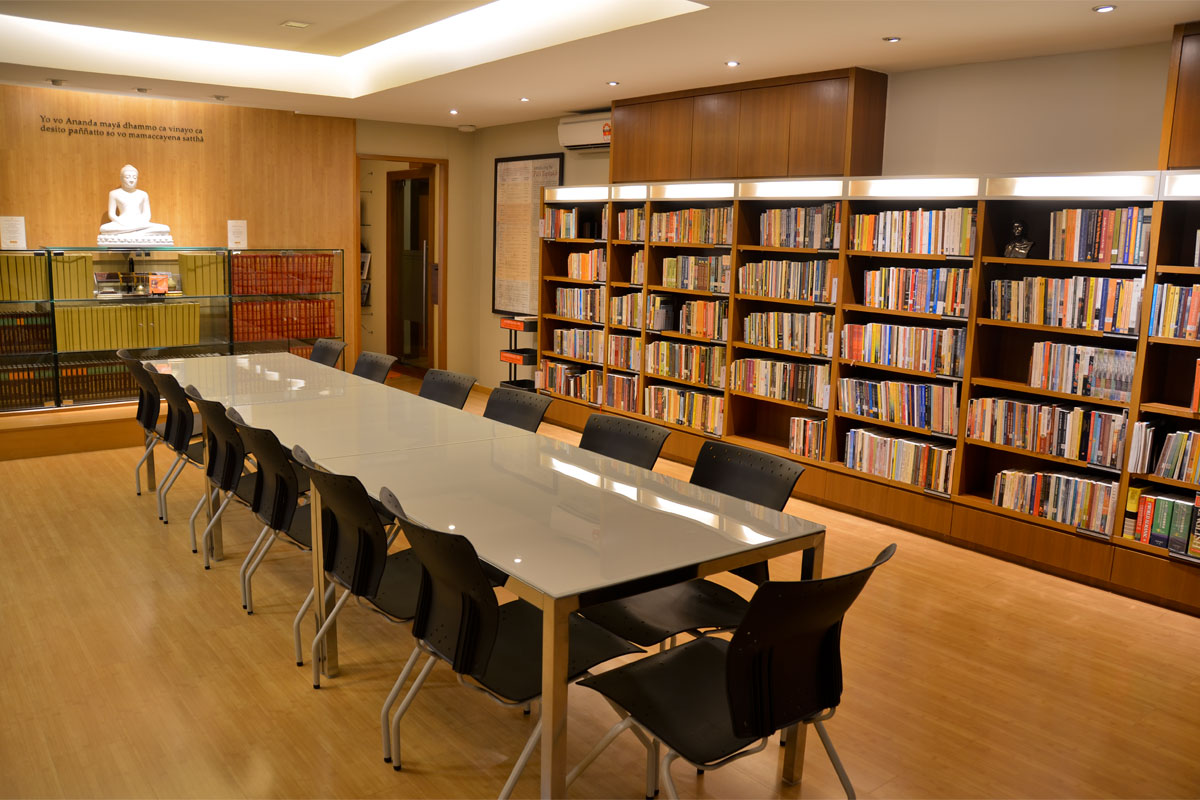 Objectives
To make available the correct and quality reading materials to promote the learning, study, practice and right understanding of Buddhist teachings.
To maintain a current and adequate multi-media collection of learning resources.
To support and complement Nalanda's educational programmes.
To be well-equipped as a reference library for academic courses in Buddhist studies up to Bachelors Degree level.
Youth Library
The Nalanda Youth Library based at Nalanda Youth Centre, Sri Serdang, was established on 1 January 2013.  The Youth Library is an extension of Pustaka's services to cater for the reading and learning needs of Nalanda's teenagers and younger adults.
Catalogue
Pustaka Nalanda currently has more than 5,100 titles comprising Pāli Scriptures, Buddhist Encyclopedia, reference materials, books, periodicals, magazines and other publications in several languages.  It also has a large catalogue of multimedia (DVD, MP3, CD) materials.  Personal DVD/MP3 players are available for use at the Library.
The Youth Library has a further collection of 1,100+ titles appealing to teenagers and younger adults.
Rare Collections
Pustaka Nalanda hosts 3 precious sets of Pāli Tipitaka in Roman, Sinhala, and Devanagiri Scripts.  The Library also has the English translation of Tipitaka published by the Pāli Text Society, as well as the entire set of Buddhist Encyclopedia (edited by Prof. G. P. Malalasekara) published by the Government of Ceylon (presently Sri Lanka) in 1965.
Locations
The Library operates at four locations – the main Buddhist Reference Library at Nalanda Centre in Sri Serdang, Selangor, and three general branch libraries at NEO Centre Happy Garden, Kuala Lumpur, NEO Centre Johor Bahru, and NEO Centre Sungai Petani.
Opening Hours
The Buddhist Reference Library at Nalanda Centre is open daily:
Mondays – Saturdays | 10.00am – 5.00pm
Sundays |  8.00am – 12.00pm
Nalanda Youth Library at Nalanda Centre is open daily:
Mondays – Saturdays | 10.00am – 5.00pm
Sundays |  8.00am – 12.00pm
Free Membership
Pustaka Membership is open to the public free of charge.  Members are entitled to borrow 3 books for 2 weeks.  Nalanda Officers are automatically members of Pustaka, and are entitled to borrow more books for a longer period as well.