Nalanda Buddhist Society Malaysia was established in 2003.  Our principal centre and management office is located at Nalanda Centre in Sri Serdang, Selangor.  Over the past decade, we have been successfully organising many educational programmes such as Dhamma courses, camps, meditation retreats, public forums, conferences and seminars.
Besides having effective programmes and activities, Nalanda also hosts an important referral library containing valuable resources for Buddhist research and studies.  Devotees from all over the country are drawn to Nalanda regularly for Dhamma studies.  Furthermore, increasing number of youths and undergraduates are making use of Nalanda Centre as their activity hub.  Thus, Nalanda has become one of the several acknowledged centres of Buddhist education in Malaysia.
From our inception, Nalanda has been focusing on providing holistic Buddhist education, facilitating personal spiritual development, and the joyful propagation of Buddha-Dhamma.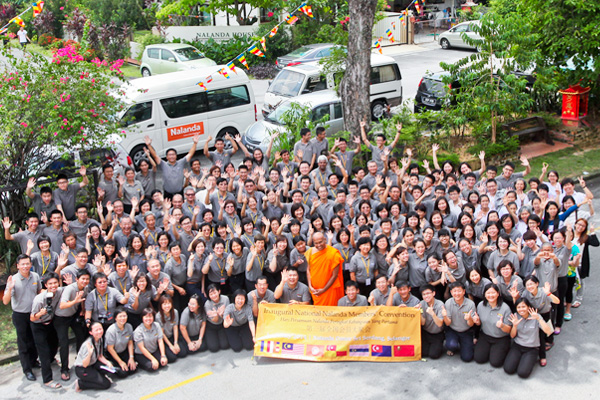 Nalandian Motto
Holistic Education for Integral Human Development
Vision
We facilitate the making of a Buddhist community that is proactive in learning, studying and practising the noble teachings of the Buddha; achieving the Six Well-beings; and energetic in rendering services to the world.
Mission
Nalanda's noble mission is to effect personal transformation and social improvements around the world by providing appropriate educational opportunities based on Buddha-Dhamma.
Objectives
To promote the learning, study, practice, and understanding of Buddha's moral teaching and guidance as a way of life.
To promote and facilitate the achievement of Six Well-beings in life.
To promote Buddhist educational programmes and cultural heritage.
Doctrinal Affiliation
Nalanda Buddhist Society belongs to the Pāli School of Buddhism, which is closely related to the Theravada School that developed in Sri Lanka, Myanmar and Thailand.  Pāli was the language used by the earliest Buddhist communities 2,600 years ago, and is today the canonical language of the Theravada School as well.
Organisational Affiliation
Nalanda Buddhist Society is a member of the Theravada Buddhist Council of Malaysia (TBCM) – a national-level federation of Theravada Buddhist organisations.
Nalandian Spirit & Culture
There is a distinguished quality about Nalandians as they go about performing their services, and in the way they live their lives – that measured, calm and serene manner which prevails.  Visitors often marvel at the way Nalandians carry themselves with such discipline and humility.
There is also a distinct "can do" spirit at Nalanda.  Members and volunteers maintain a positive attitude towards life's challenges, and strive to improve themselves all the time.
Our Founder summarized the Nalandian Culture with this description, "…Nalandians are humble, eager to learn the Dhamma, easy to be admonished, yet confident in their inherent goodness, and courageous in acting and living wisely."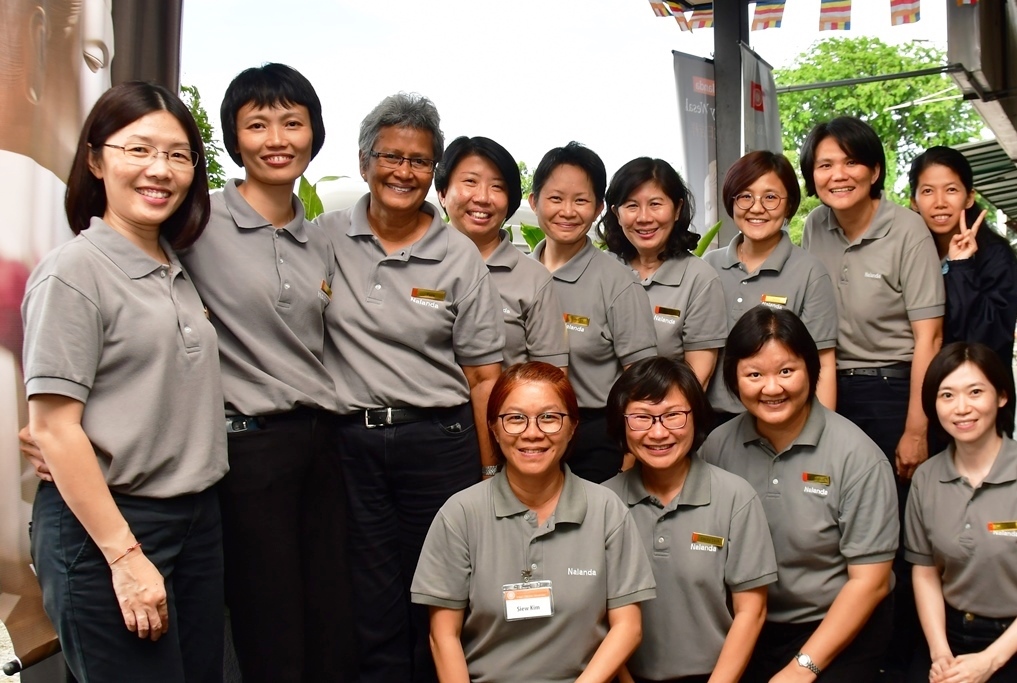 Nalandian Core Values
What does it mean to be Nalandians?
Being Nalanda members, devotees and volunteers, we believe in :
Compassion – Being kind and supportive of others in our thoughts, speech and conduct. Living a harmless life with goodwill and friendliness to all.
Courage – Being strong and determined in the face of adversities and challenges in life. Bearing patience and endurance in pursuing a noble way of life.
Respect – Being respectful of our elders, teachers, fellow practitioners, and all sentient beings, thus creating healthy and harmonious relationships.
Integrity – Living by righteous means, principles and values. Upholding truthfulness and living a non-deceitful and non-conflicting life.
Service – Living not just for ourselves, but for the welfare of others as well. Doing the needful and being altruistic in rendering services to the world.
Faith – Having right understanding and deep confidence in the Buddha-Dhamma, and the commitment to live by its lofty principles.
Learning – Continuous learning and improvement as an individual and as a community. Eager to learn the Dhamma for a spiritual growth and awakening.
Reflection – Living mindfully and purposefully towards liberation from afflictions. Bearing gratitude, and having wise discretion throughout life's journey.
Six Well-beings
As Nalandians, we strive to attain balance and happiness in our lives, as well as to help others achieve greater joy and success in their lives, by realising the Six Well-beings :
Physical well-being and good health.
Mental well-being and joyful living.
Family well-being and domestic bliss.
Economic well-being and career success.
Interpersonal well-being and social harmony.
Spiritual well-being and inner peace.
Four Principles of Living
We choose to lead spiritual, grateful, and fulfilling lives by :
Embracing a life of simplicity, modesty, and moderation.
Maintaining a serene, calm and contented mind.
Living gracefully and harmoniously with the community.
Living in accordance to Dhamma.
In terms of Nalanda's management, there will be improvements to 5 Focal Areas:
Reorganising management structure and divesting more responsibilities to functional groups, while retaining organisation-wide cohesion by emphasising Nalanda's Core Values, culture and spirit.
Simplifying operational system and implement better programming for Nalanda's activities.
Ensuring adequate financial & educational resources for the Society's operations and expansion.
Improving and continuously enhancing learning facilities at Nalanda premises.
Developing and growing people for leadership roles at Nalanda, and beyond.
"Transforming Nalanda" was launched in conjunction with the Society's 8th Anniversary celebration on 1 May 2011. The 24-month programme aims to propel Nalanda forward to become an even more dynamic and effective organisation in providing holistic Buddhist education.
Transforming Nalanda comprises two major components :
Personal Transformation – Nalandians internalise our Core Values and embrace Nalanda's mission, culture and spirit.
Organizational Transformation – Changing Nalanda's leadership and management focus to create a new dynamic Nalandian spirit and identity.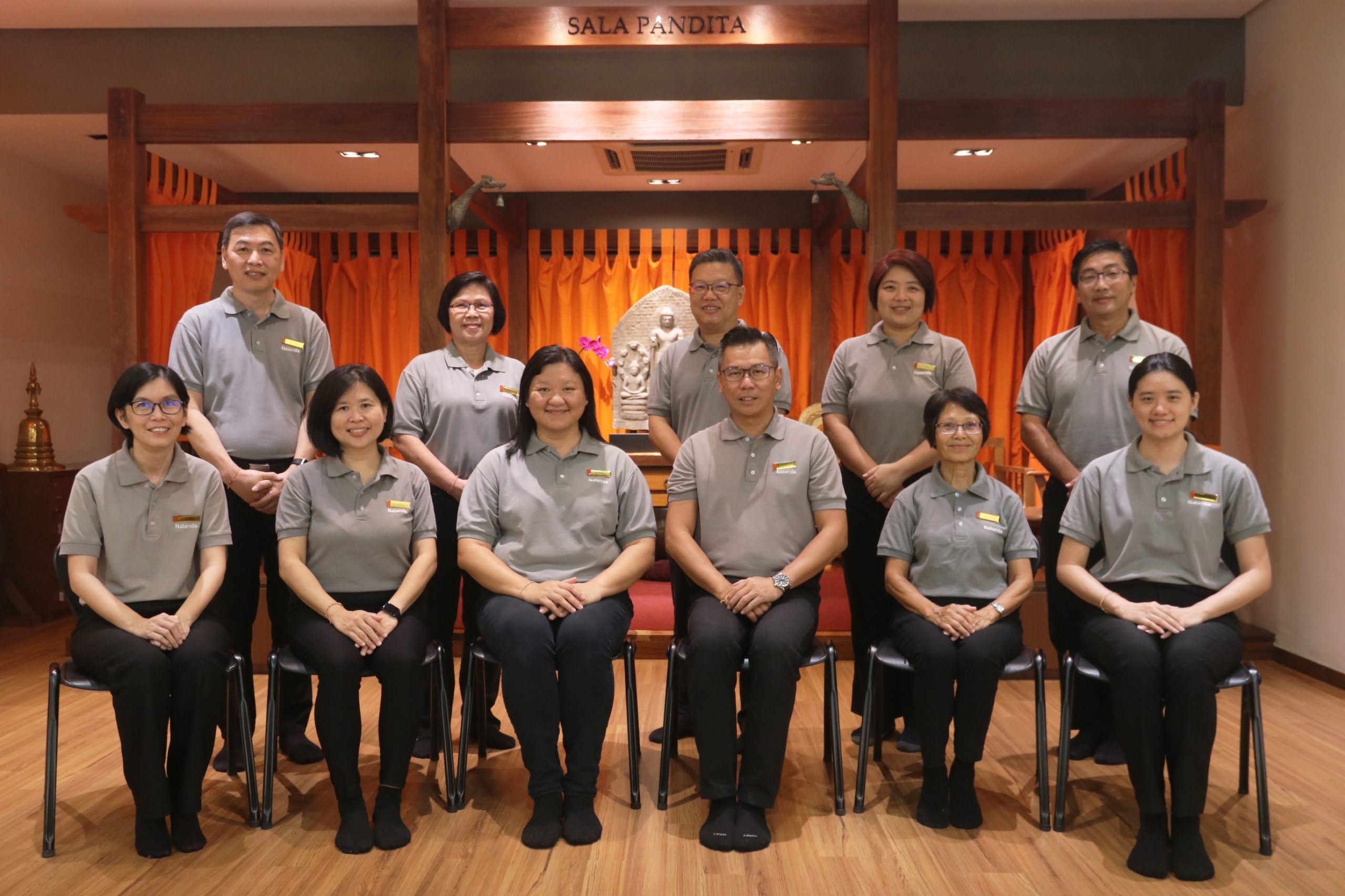 Nalandian officers come from different backgrounds and bring in diverse skill sets to lead and manage the organisation.  We practise 'Team Leadership', where officers take turns to assume leadership roles under different circumstances.  Despite the diversity, Nalandians treasure consensus-building and a unity of purpose.
Board of Management 2023–2025
Elected on 19 March 2023.
President
Sis. Buddhinī Tan
Deputy President
Bro. Charlie Teng
Honorary Secretary
Sis. Livin Leow
Honorary Treasurer
Sis. Lim Kah Hong
Assistant Secretary
Sis. Santī Cheang
Assistant Treasurer
Sis. Belle Yeoh
Board Members
Sis. Evelyn Chow, Bro. Lee Kong Foo,
Bro. Louis Chan, Bro. Tan Say Kee,
Sis. Foo Ai Li
Heads of Divisions
| | |
| --- | --- |
| Director of Nalanda Institute | Ach. Tan Siang Chye |
| Director of Nalanda Dhamma School | Sis. See Hui Shien |
| Director of Pustaka Nalanda | Bro. Ananda Fong |
| Principal of Nalanda Free School | Sis. Ng Chwee Fang |