23 June 2012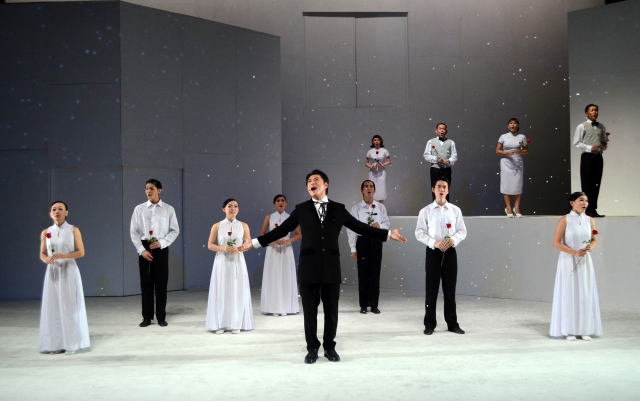 Hundreds in the audience were captivated as we were taken on a journey depicting the life of Yao Lee, the original singer of the classic song "Rose, Rose, I Love You", last Saturday, 23 June 2012.  The fundraising musical was in aid of Nalanda Education & Development Fund, to help needy Malaysian students obtain holistic guidance and all-rounded education.
The Management Committee of Nalanda Buddhist Society would like to express our utmost appreciation to Datin Seri Kee Ming-Yuet and Bonia Corporation, the main sponsors of this event.  We would also like to sincerely thank Wei Han Production, donors, friends, and volunteers for your generous support.
Bro. Lee Kong Foo, President of Nalanda Buddhist Society, and Bro. Charlie Teng, the Organising Chairman, presented Buddha statues to Datin Seri Kee Ming-Yuet and Bonia Corporation, represented by Managing Director Mr. Albert Chang as a token of appreciation. 
On the night, we were privileged and honoured by the presence of Madam Yao Lee herself, now at the age of 91, who flew in from Hong Kong to be with us.  We were also graced with the presence of Datin Paduka Zaitoon Dato Othman, member of Governing Council, Sime Darby Foundation; Datin Dr. Faridah Abdullah, Chairman of Tan Sri Noah Foundation; and Music Producer & Composer, Imee Ooi.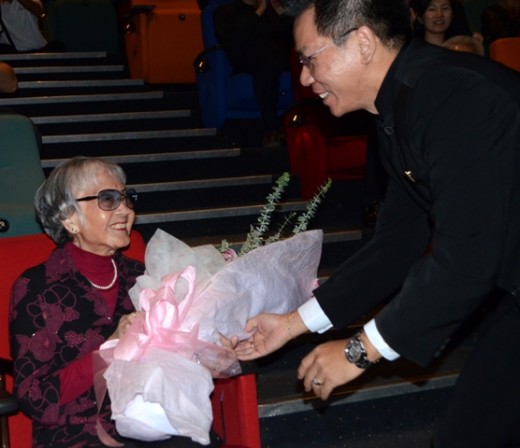 Madam Yao Lee smiling elegantly like a radiant rose in full bloom as she received the bouquet of appreciation from Bro. Charlie Teng.
The proceeds from this event will enable Nalanda Buddhist Society to continue with our meaningful mission of providing holistic education for a balanced and integral growth in people and the community.  We welcome your ongoing support and contributions towards our outreach work.  Anumodana!