Venerable Sri Saranankara Nayaka Thero giving a talk at the Dedication Ceremony of NEO Centre on 11 December 2011.
Nalanda Buddhist Society is poised to progress further with the opening of its first Education & Outreach (NEO) Centre in Happy Garden, Kuala Lumpur. The new satelite centre will enable the Society to extend its educational services to a wider community.
The idea for 'NEO', which literary means "new", was born on 7 July 2011 when Nalanda was offered the use of a shoplot by Mr A K Lee for our educational and Dharma propagation activities. NEO Centre aims to reach out to a large Buddhist population residing in Happy Garden, OUG, Kuchai Lama and Sri Petaling, providing another much-needed venue for the community to learn and understand Buddhism.
Nalandians and guests mingling at NEO's Reading Lounge after the Dedication Ceremony. NEO Centre is opened in time to commemorate the auspicious 2,600th Anniversary of Buddhism.
On 11 December 2011, which incidently also marked the second anniversary of Nalanda Centre in Sri Serdang, NEO was officially dedicated to the Triple Gem, upon completion of extensive renovation work.
The auspicious day was graced by Ven Sri Saranankara Thero, Adhikarana Sangha Nayaka of the Sri Lankan Community in Malaysia, together with a 90-strong congregation comprising donors and benefactors, dhamma friends and members of the Buddhist Community Alliance.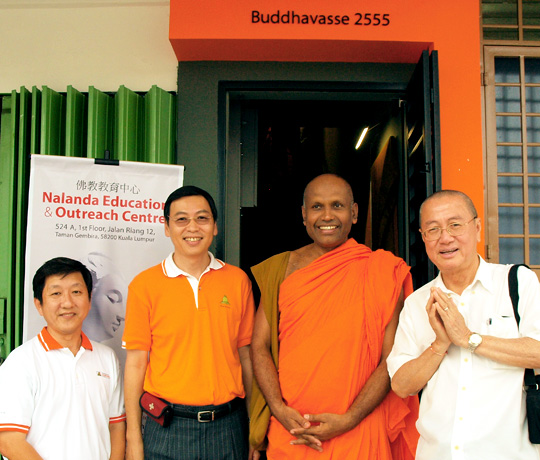 Venerable Saranankara with (from left) Nalanda's Vice President Bro Lee Teck Beng, President Bro Lee Kong Foo, and Mr Tee Kian.
With the Dedication Ceremony, and the strong commitment of the management committee of Nalanda Buddhist Society under the leadership of Bro Lee Kong Foo and our Founder, NEO is all set for the noble mission of promoting the learning, practice and propagation of Buddha-Dhamma. Thus a new milestone is achieved in Nalanda's journey with the birth of NEO.
The Buddha Altar at NEO Centre.