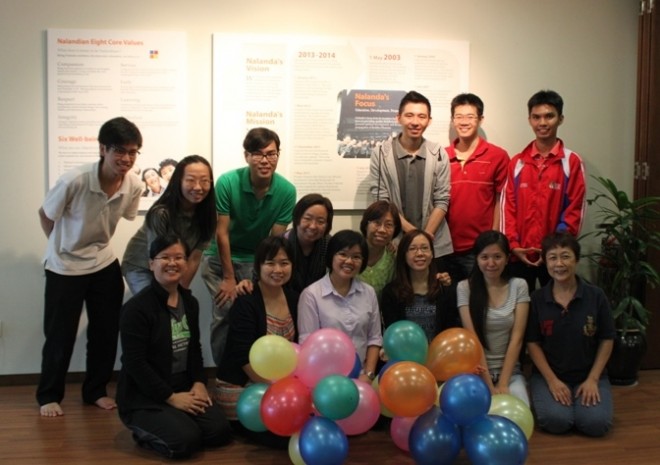 Smiling faces after a fruitful training
On Tuesday 15 October, Nalanda Dharma School organised a training programme for facilitators to learn about healthy living and to gain a better understanding of educational philosophy and theories. This full-day training was attended by 15 facilitators from Nalanda Dharma School, Nalanda Free School, Nalanda Youth Centre and Nalanda Volunteer Centre.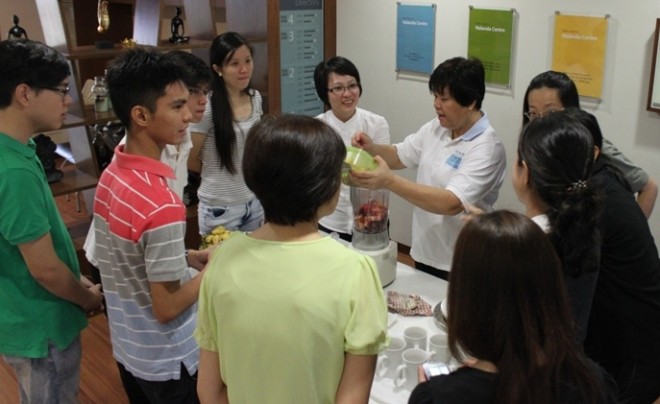 Mrs. Choo demonstrating ways to prepare healthy fruit juice.
One of the interesting components of the training was Mrs. Choo's sharing on tips for healthy living. Participants learned how to prepare freshly blended juice and practised a 'hand-swinging exercise' (甩手功). Nalanda Dharma School Director Sis. Sunanda Ong conducted a constructive session on educational theories. Several interesting tests were carried out and the participants could see a clearer picture of individual behaviours and memory capabilities. The day was concluded with an interactive discussion on how to apply the theories learned in Nalanda's educational programmes.
With teamwork, there are no tangles that are too difficult to be unraveled.
It was indeed an enriching and enjoyable day. The facilitators enhanced their understanding of the right way of education and were boosted by the robust team spirit! May the light of Dhamma continue to shine the way for a well-educated society and harmonious community.