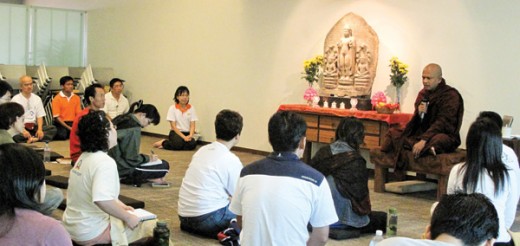 7-Week Dhamma Retreat for Nalandians
Nalandians are observing a period of concentrated Dhamma learning and practice from Sunday, 20 May 2012 to Asalha Full-moon, Tuesday, 3 July 2012.  The purpose of this Gimhāna Retreat is for us to know ourselves better, and penetrate the Dhamma more deeply through guided, progressive, communal and personal practice.  During this period, Bro. H S Tan will be giving teachings on Sundays from 9am-12pm.  He will also lead the Group Meditation and Dhamma Discussion on Wednesdays from 8.30pm-10pm.
All Nalanda members, volunteers and devotees are invited to join us during this wholesome period to learn and practise together whole-heartedly as spiritual friends (kalyana-mitta) on the path towards peace and bliss!  Ehipassiko!