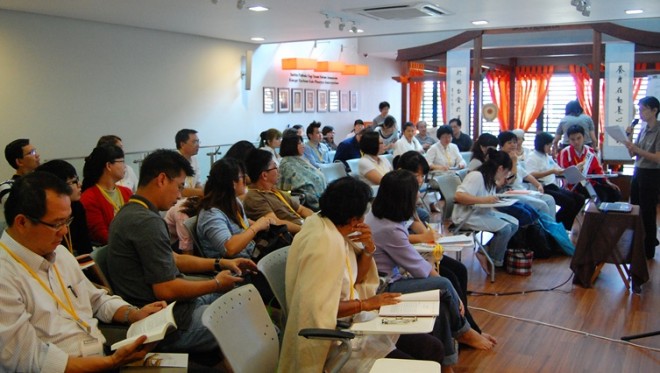 Participants of Nalanda Institute's Course BPS 302 (Certificate in Buddhist Studies) had a day-long tutorial and presentations on Tuesday, 5 November.  The tutorial session taught by Bro. Ananda Fong began at 10am and lasted until lunch.
In the afternoon, 9 groups of participants presented their project reports on an interesting range of topics – about Buddhist organisations, practices and traditions.  Institute Lecturer Bro. Tan Siang Chye and Tutor Bro. Ananda Fong observed the group reports and gave their constructive and encouraging feedback.
The BPS 302 Course is drawing to an end, with another session on 16 November, which is the written examination.  Institute Founder Bro. H S Tan dropped in at class to motivate everyone to complete the course with a flourish!  Bro. Tan mentioned that constant 'examination' (or 'Dhamma-vicaya') enables us to acquire 'true knowledge and vision'.  Thus it is extremely useful to students of Dhamma.  Examinations are therefore not to be feared but appreciated!  We wish all participants the best of endeavours for the upcoming session.  Bhavatu sabba mangalam.