Bro. Tan sharing on the background and significance of Nalanda Patron's Day.
Sunday, 17 March was Nalanda Patron's Day Observance.  We were privileged to commemorate this day with our friends from Singapore Buddhist Fellowship.  Together, we listened to and discussed the Dhamma with Mr. Benny Liow, as he spoke on the topic of 'Morality' (Sila).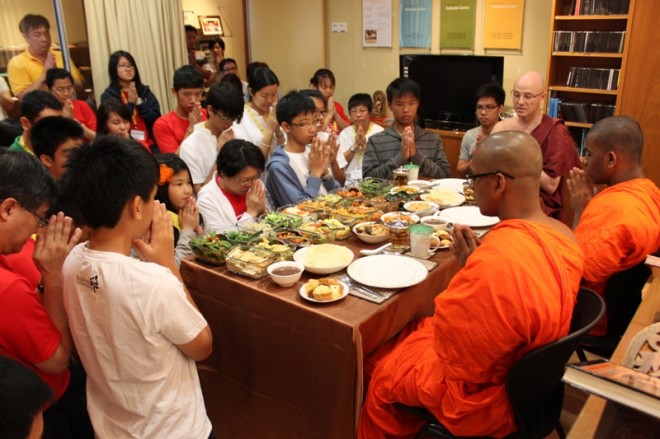 The Singapore BF Youths offering to the Sangha with care, devotion and respect.
We then had the opportunity to offer Sanghika Dana to venerable monks.  During the communal lunch at noon, the Srivijaya Hall was packed as everybody was served graciously and then ate mindfully.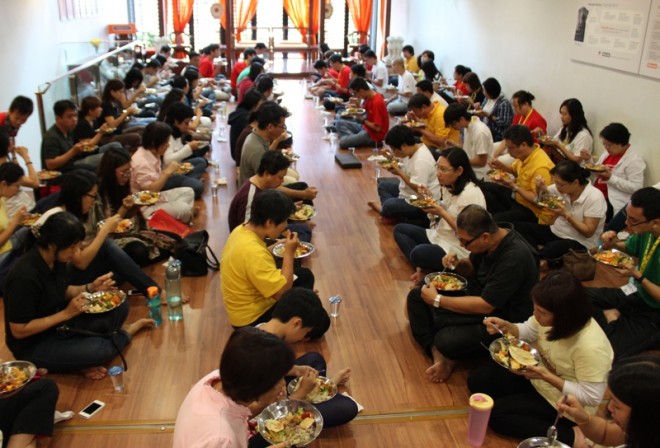 Peaceful and harmonious atmosphere during the Nalandian communal lunch with more than 100 devotees.
It was another wonderful weekend spent with like-minded, spiritual friends at Nalanda Centre!
Thank you for visiting Nalanda, and for sharing a wonderful weekend together in Sri Serdang!