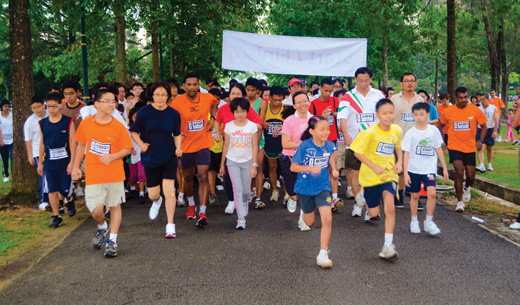 Walk for Education 2012!
More than 300 participants turned up at Bukit Jalil Recreation Park on a crisp Sunday morning on 4 March to take part in Nalanda Walkathon – "Walk for Education 2012!" This time around, there were more group participation from schools, private companies and local council staff members. One out-station participant, an undergraduate from Perak, even arrived the night before and slept under a canopy in the Park!
Despite the chill, as it had rained the night before, the atmosphere soon became one of warmth and revelry as the participants infused it with their laughter and relaxed countenance. Whether they were well-prepared or not, the participants kept faithfully to the 5km-path. As stated in Dhammapada verse 276: "The Buddha shows the way, but you yourself must walk the path". This exhortation was among the walking route signs, which stood out amidst the beautiful scenery. Another sign quoted Dhammapada verse 273: "Of all paths, the Noble Eightfold Path is the best!" – which rings true as was seen on the happy faces of the participants as they passed the finishing line.
A total of RM27,000 was raised from the event, thanks to the support of exuberant participants, team effort by the volunteers, and contributions from generous sponsors – Pearl International Hotel, Mighty Bakery, Fuji Bakery, Syarikat Perniagaan Weng Sing, Oriental Pearl, Southern Lion Sdn Bhd, Nestle Products Sdn Bhd, and In-comix Food Industries Sdn Bhd.