24 – 25 March 2012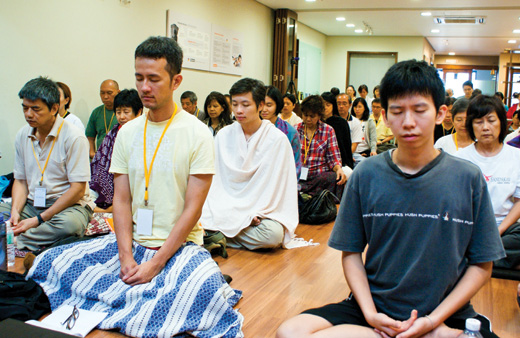 Nalanda Institute welcomed the return of Venerable Aggacitta together with Ven. Balacitta, Ven. U Vijaya, and 95 diligent yogis, for Part Two of the Satipaṭṭhāna Sutta Study with Meditation Workshop on 24 and 25 March.
In those two days, Venerable Aggacitta covered the "Contemplation on the Dhammas" (Dhammānupassanā), which includes sections on the Five Mental Hindrances, the Five Aggregates, the Six Sense Bases, the Seven Awakening Factors and the Four Noble Truths. During group discussions, to the delight of the participants, the venerables joined in to share their knowledge of the sutta.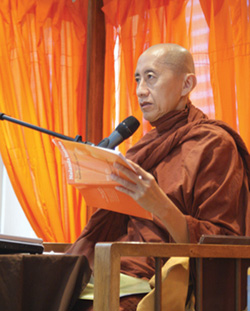 Besides giving clear commentaries on the sutta, Ven. Aggacitta also compared the teachings on Satipaṭṭhāna in seven major texts from different Buddhist Schools. There were 'Question and Answer' sessions and sharing of participants' insights gained from the understanding and practice of Satipaṭṭhāna.
The Workshop concluded well with participants' joyful expressions and increased faith in the practice. We congratulate and rejoice with every participant in completing the Satipaṭṭhāna Sutta Workshops. May you continue to strive, learn and practise diligently towards liberation. Sādhu Anumodana!