This year, many Buddhist organisations in Malaysia have come together to jointly celebrate the birth centenary of the late Ven. K. Sri Dhammananda Nayaka Thera (1918–2006), who was an inspiration to millions of Buddhists throughout the world, especially in Malaysia, Singapore, and Sri Lanka.
From the time he set foot in Malaysia (then known as Malaya) from Sri Lanka in 1952, Ven. Dhammananda had been relentless in propagating the teachings of the Buddha until he passed away in 2006 at the age of 88.
Nalanda Buddhist Society will be publishing a three-volume tribute in honour of Ven. Dhammananda's legacy and vast contributions to Buddhism.  The first and second volumes are named "Future Trends" and "Contemporary Perspectives" in Buddhism respectively.  They contain essays written by 38 Buddhist teachers and activists, including Ven. Bhikkhu Bodhi, Ven. Thubten Chodron, Ven. S. Dhammika, and Ajahn Sujato of Australia.  Local contributors include Āyasmā Aggacitta, Ven. Dhammasubho, and many more.
The third volume themed "Celebrating His Legacy" presents the life of Ven. Dhammananda through archival photographs – from youth to elderly Sangha Nayaka of Malaysia and Singapore – so that the present and future generations of Buddhists will get to know more about this illustrious leader, scholar, and teacher.  This set of books will be published on 31 August 2018.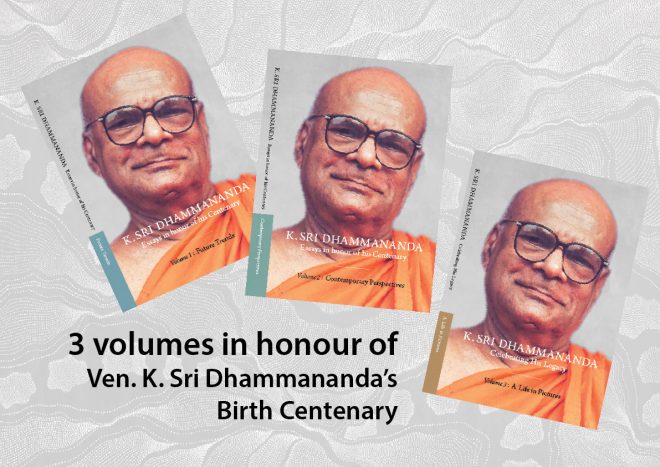 Sponsorship of books
We welcome your support and contributions to producing this 3-volume set of new books.  Donations of any amount are welcome to cover the cost of printing the books.  Donors may bank in or transfer funds to "Nalanda Buddhist Society" Maybank Account: 5121-4703-9185.
After banking in your donation, kindly e-mail to info@nalanda.org.my or call Nalanda's office at 03-89381501 to notify us.  We would like to issue an official receipt and send it to you to acknowledge your contribution.
Customarily, Nalanda does not practise printing the names of donors in the sponsored book.  We encourage sponsors to rejoice in their meritorious deeds, and be content to remain nameless and selfless.
Let us honour the late Ven. K. Sri Dhammananda in a meaningful way by making available Dhamma publications to benefit more people, the way he himself used to do.  Thank you!