9 – 16 September 2012
The "Sri Maha Bodhi" Bo-tree was a sapling from the original Bo-tree in Bodhgaya, brought to Sri Lanka from India by Theri Sanghamitta, the daughter of King Asoka.
"Serendip" is an ancient name of Sri Lanka, and indeed, it was easy to experience serendipity at almost every corner in this beautiful country.  The 39 participants of this 7-day Study Tour departed for the resplendent "teardrop-shaped" island on 9 September with Bro. H S Tan as the tour leader.
The Aukana Buddha, a 5th century 13-meter statue, is probably the finest and best-preserved ancient Buddha statue in Sri Lanka.
Dressed in white, with sincerity, devotion and keenness to learn, the visits to Buddhist temples and ancient archaeological sites filled everyone with a sense of awe, sobriety and gratitude.  Listening to the historical tales of how the Dhamma was brought to Sri Lanka and South-east Asia, the hardships and sacrifices borne in order for the Dhamma to flourish and still benefit so many today, brought a greater appreciation for how blessed we are in this current generation.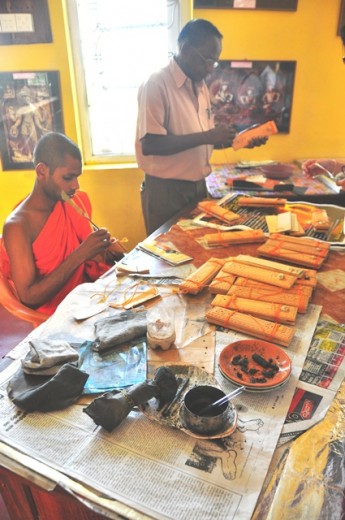 During the 1st century BCE, monks meticulously committed the Buddhist scriptures ( Tipitaka ) to writing here at Alu Viharaya.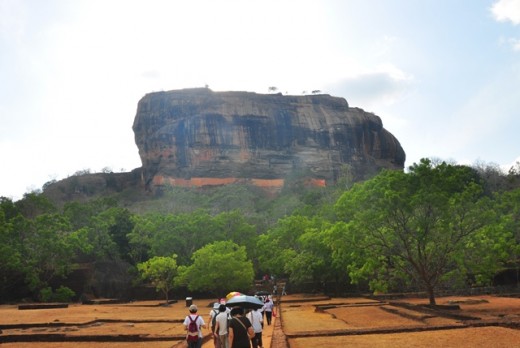 Sigiriya, "Lion's Rock", is an ancient rock fortress which rises 200 metres above the surrounding plains.  Daunting it may seem from afar, but with comradeship and support, nearly all participants climbed successfully to the top!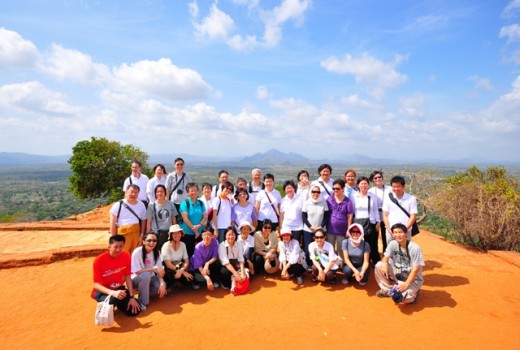 The view from the top of Sigiriya – priceless!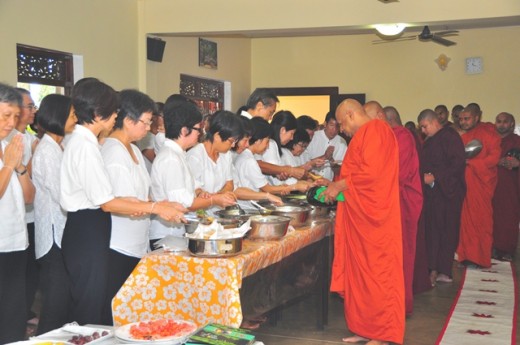 At Vajirarama, offering food to the monks during Maha Sanghika Dana, we are serving the entire lineage of Sangha members, tracing back to the Lord Buddha.
It was an enlightening and awe-inspiring trip steeped in insightful explanations, majestic landscapes and warm camaraderie.  The participants were deeply thankful to Bro. Tan for his leadership, teachings and care throughout the week.
On the last evening of the tour, during a serendipitous sojourn at the beach, a breathtaking sunset prompted many expressions of glee.  Then, returning to the bus, everyone was showered with light drops of blessing rain.  Lo and behold, a rainbow appeared in the sky right in front of us.  Mother Nature has said it all.
Ayubowan!