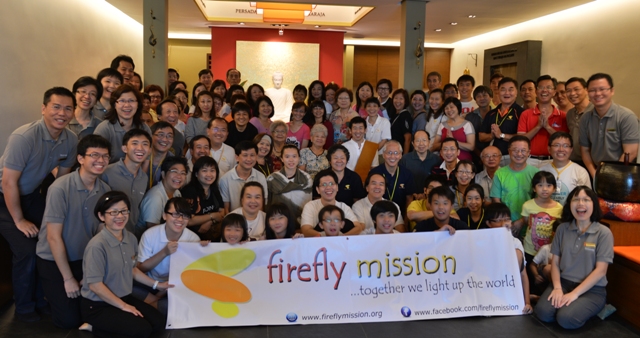 Just as a firefly lights up naturally, we lit up with happy smiles as we met new friends today.
On Deepavali, 13 November 2012, Nalandians warmly welcomed members of Firefly Mission, who came for a visit from Singapore.  The group of 74 people was very happy to be guided on a tour of Nalanda Centre, with many admiring the Centre's unique Srivijayan interior design and its rich Buddhist symbolism.
Throughout the two-hour visit, the visitors and Nalandians enjoyed friendly interactions and got to know each other better.  It was a wonderful meeting of kindred hearts, and indeed, "together we light up the world!"
Sis. Sandy Lim explaining the significance of the Tipitaka – Buddhist Canon in Pali.
Our guests from Firefly Mission were fascinated by the educational panel illustrating the history of Buddhism in Malaysia.
A snapshot of Nalandians sending off our Singaporean friends.  Thank you for visiting, and hope to see you again soon!