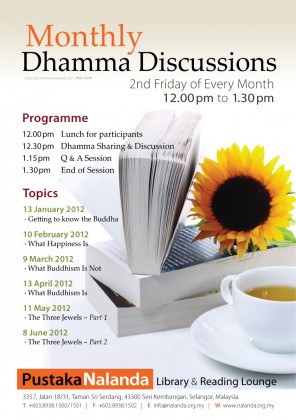 Monthly Dhamma Discussion
Date: 11 May 2012, Friday
Time: 12pm – 1.30pm
Venue: Pustaka Nalanda
Topic: The Three Jewels – Part 1
Come and join us to learn about the unsurpassable qualities and the preciousness of the Buddha, Dhamma and Sangha.  Lunch will be provided to all participants.  Please click here for our address and location map.  Everyone is welcome!
Service Sunday
Date: 13 May 2012, Sunday
Time: 9am – 11am
The Service will start with sitting meditation, followed by puja, chanting, and a Dhamma talk.
The topic of the talk is "A Buddhist's Reflection on Learning".  One of our core values at Nalanda is continuous learning and improvement as an individual and as a community.  This theme will be further explored by Dr. Phang Cheng Kar with us on Sunday.
Dr. Phang has been learning and practising the Dhamma for the past 18 years.  He was the past President of the UPM Buddhist Society.  He gives Dhamma talks regularly and has the inspiration to be a great healer of the mind and body.  He hopes to do so with his medical, psychotherapy knowledge and Dhamma sharing skills.
Everyone is welcome to join us for the Service Sunday!

Upcoming Workshop

LMS 276   Leadership Effectiveness: Part 1
Dates: 19 May, 16 June & 23 June 2012, Saturdays
Time: 2pm – 6pm
Venue: Nalanda Centre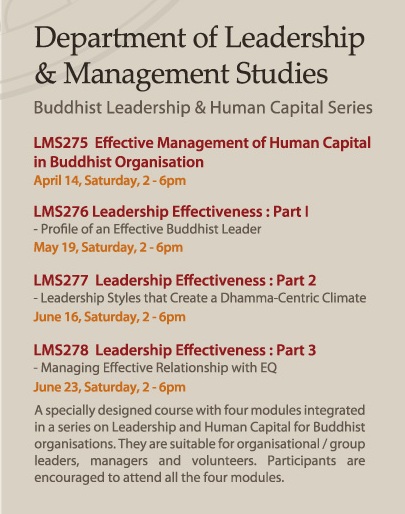 This leadership course has been particularly designed to cater for Buddhist leaders and volunteers, and Dhamma School teachers.  Participants will learn about different leadership styles that create excellence.
Please register by e-mailing your following particulars to Bro. Tong at: institute@nalanda.org.my
Name (as per IC)
Hand phone number
E-mail address
Position in a Buddhist Organisation (if applicable)
Name of the Buddhist Organisation
(A confirmatory email will be sent to advise the status of your registration.)
Please feel free to forward the details of this course to your relatives and friends who are involved in Buddhist service and interested in this development programme.