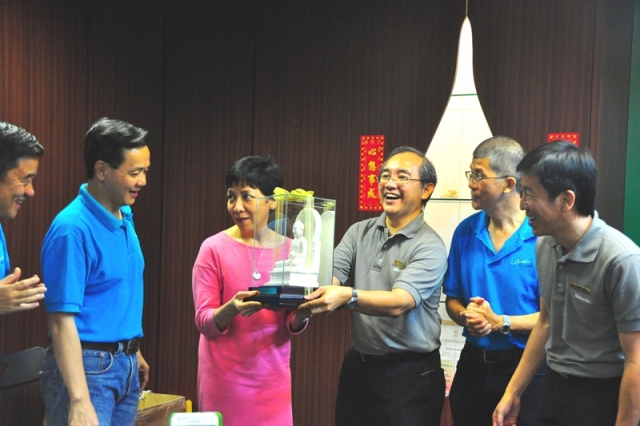 Bro. Ananda Fong, Director of Pustaka Nalanda, presenting a souvenir to Angie Chew Monksfield, current President of Buddhist Fellowship.  May the Buddha's teachings continue to guide our Dhamma outreach everywhere.
On Saturday, 23 February 2013, Bro. Ananda Fong, Director of Pustaka Nalanda, led a delegation of five Nalandians to felicitate the Singapore Buddhist Fellowship's 25 remarkable years in serving the Buddhist community.
As part of their celebrations this year, a grand Anniversary Gala Dinner was held at the Harbour Front, Singapore, attended by more than 1,000 guests .  The evening's guest of honour was His Excellency Mr. S. R. Nathan, the former President of Singapore.  Also present were many members of the Maha Sangha, including Ven. Ajahn Brahmavamso (who delivered an uplifting Dhamma talk that night), Ven. Dr. P. Gnanarama Thero, and Ven. Rathanassara Thero.
Pausing to reflect on BF's 25 years of persistent efforts, this is the moment to come together to celebrate and rejoice; and thereafter, move forward to even greater heights!
Guests also came from Australia, Indonesia, and Malaysia to rejoice over the Buddhist Fellowship's achievements.  The Fellowship is in many instances at the forefront of Dhamma propagation, often employing courageous, creative, and innovative ways to present the Buddha's message to the masses.  Hence, the Gala Dinner was aptly themed, "Coming Together, Moving Forward".  Nalandians too truly rejoice and revel in your success.  Sadhu anumodana!
[ For more photos and descriptions, please visit our Facebook page at https://www.facebook.com/nalanda.org.my ]