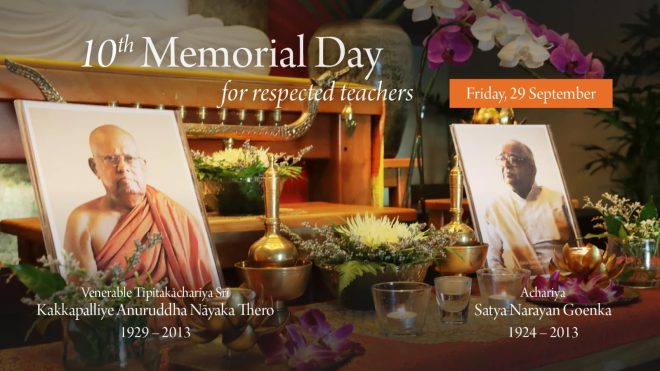 Today is the 10th anniversary of the passing of eminent Tipitaka and Pāli Scholar, Venerable Kakkapalliye Anuruddha Nayaka Thero, and renowned meditation teacher, Acharya Satya Narayan Goenka. Both were luminaries of the Buddhist World – one a great Tipitaka scholar, and the other a great meditation teacher; their teachings and legacy continue to be benefit many today, even after a decade.
Nalanda Buddhist Society pays humble tribute to them for their significant contributions towards the propagation and prolongation of the Buddha-Sāsana, and for the betterment of humanity.  This anniversary also falls on the Full-moon Day for the month of 'Assayuja'.   Let us spend the day wisely reflecting on the Dhamma, performing meritorious deeds, and deepening our practice by observing the Eight Precepts.
With the merits which we accumulate, we share them with Ven. Anuruddha and Acharya Goenka.  May our respected teachers experience the highest bliss of Peace, 'Santi'.