17-18 December 2011
Pindacara – Monks going on their alms-round.
It was a special event to commemorate a most special teacher. The "Ajahn Chah Remembrance Day" which was held over the weekend of 17-18 December at SJK (C) Yuk Chai in Petaling Jaya, drew hundreds of devotees to pay homage to the great Buddhist meditation master.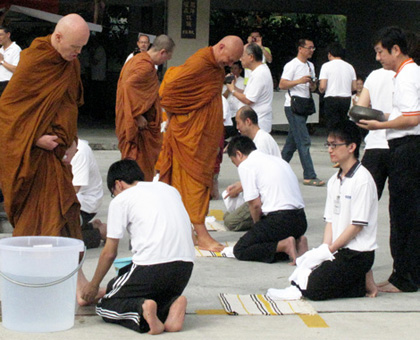 Jointly organised by an alliance of Buddhist societies, of which Nalanda is a key member, the 2-day event was especially significant this year as it marked the 20th anniversary of this muchloved teacher's passing on 16 January 1992. There were dhamma talks given by Luang Por Viradhammo (Canada), Luang Por Sucitto (UK), Tan Ajahn Kalyano (Australia), just to name a few, paritta chanting and meditation sessions led by the sangha members, pindapata (alms round) and a photo exhibition.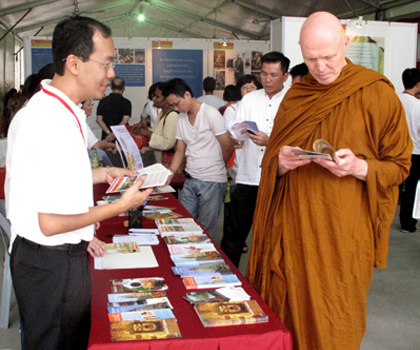 Bro Pee and other Nalandians manning the Information Counter.
Nalanda Buddhist Society joined in the tribute as a supporting society, and our devotees served at the event by taking on duties as ushers, kappiyas, and frontliners at the free distribution counter at the venue. We would like to thank all Nalandians who helped and served selflessly at this joyful event. Sādhu!