This year's Nalanda Wesak 'Buddha Day' celebrations went off on a terrific start since early yesterday morning.  The good weather brought a steady stream of visitors to Nalanda Centre throughout the day.
Many wholesome activities were held on that first day of Wesak Observance – beginning with the morning service, meditation, Dhamma talks in English by Achariya Vijaya Samarawickrama, and Mandarin talk by Bro. Ooi Boon Keat.  A Buddhist forum themed "Getting to know the Buddha" was held in the afternoon, featuring Venerable Changzao of Dharma Drum Malaysia, and Bro. Wong Choon Tatt of Bodhi KL Group.
Nalanda founder Bro. Tan was present to launch the 'Buddha Jayanti' Exhibition – an annual project undertaken by Nalanda Dhamma School teachers and students in conjunction with Wesak.  The exhibition carries this year's Wesak Day theme, which is "Buddha – Our Teacher and Refuge".
The blood donation and organ pledge campaigns also saw fantastic response from the public, with an endless line of donors waiting patiently for their turns to help save lives.  The diligent doctors and nurses worked non-stop and even skipped lunch so as to accommodate all potential donors!  Such was their compassion and dedication to work – we salute you!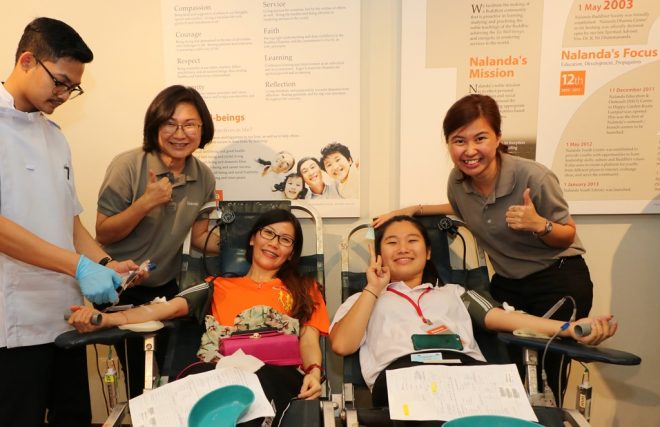 Overall, we feel overjoyed at the great response from the community for all of yesterday's programmes.  We look forward to welcome even more devotees for the next few days of teachings, meditation, exhibition, building tours, and more, culminating with the 'Buddha Day' (Wednesday) unique heritage procession led by the Sacred Buddha Relic.
Come experience the joy and serenity of Wesak Observance at Nalanda Centre.  Namo Buddhaya!