Nalandians usher in 2013 with pūja, meditation, and wise reflection.
On 31 December 2012, Nalanda members and devotees gathered at the Sri Serdang Nalanda Centre following an annual tradition to reflect on the passing of 2012, and to usher in the New Year.  Dressed in elegant Nalanda sarong uniforms, devotees greeted each other joyfully with words of thanks, mutual appreciation, and encouragement.
Some devotees started to meditate past 11pm at the Shrine Hall, while more entered as midnight drew closer.  At 11.40pm, Bro. Choong Li led the congregation in the pūja, ending a few minutes before 12am.  Everyone then continued to sit in quiet reflection and meditation, 'calming down' to the arrival of 2013.
Then, the bells and gongs were struck nine times each, and Bro. Tan led the congregation to recite verses of blessings.  Thereafter, he gave a short but impactful Dhamma-dāna (teaching) to begin the year with wholesome acts of learning and sharing the Dhamma.
The official programme ended at 12.40am, but some Nalandians lingered at the Centre for another hour.  Before departing for home, facilitators and students of Nalanda Dharma School performed another Nalandian tradition – the ceremonial asking for forgiveness from their teachers.  In return, they were offered further admonishment to live the coming years with Right Effort and Mindfulness, and to strengthen their Resolve and establish Right Views.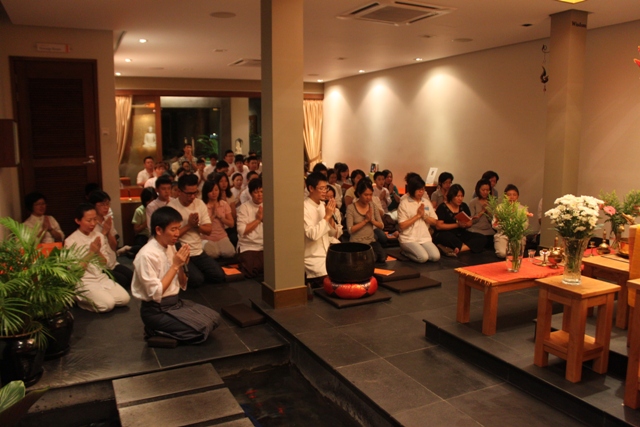 Thank you!
Nalanda Buddhist Society would like to express our gratitude and anumodana to all of you – our spiritual teachers and advisers, leaders, members, benefactors, volunteers, devotees, well-wishers, and supporters – for your kind and generous assistance throughout the past.  With everyone's continued support in 2013, we look forward to serve the community with even greater resolve and vigour.  Sabbe satta sukhihontu !   May all beings be well and happy!