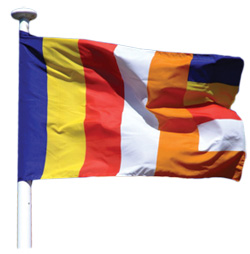 When we gaze at the Buddhist Flag, we see a potent symbol of faith, global unity and world peace. The colours of the flag exemplify the Buddhist ideal of harmony among all nationalities and beliefs, and the universally-accepted, all encompassing truth of Dhamma.
Nalanda Buddhist Society is celebrating the 2,600th Anniversary of Buddhism in 2011-2012 with several programmes, one of which is "Fly our Buddhist Flag" campaign. The International Buddhist Flag was adopted as the universal symbol of Buddhist faith in the 1950s. It is often raised only during Wesak Day, and even then, almost exclusively at Buddhist temples and societies. Our campaign is aimed at educating the community on the meaning and symbolism of the flag, and to get Buddhists to display the flag even at home on important Buddhist festivities.
To facilitate that, Nalanda published an informative leaflet on the history and meaning of the Buddhist Flag for free public distribution. Nalanda has also prepared 1,000 pieces of high-quality, made-in-Malaysia Buddhist flags which the public can purchase and display at home. The 120 x 60cm flags can be purchased from Nalanda Centre in Sri Serdang or Nalanda Book Café in Sri Petaling. Lets fly our Buddhist Flag with joy and confidence!