Pindacara (almsround) on Wesak Dawn – Fulfilling our duty as lay devotees by supporting Sangha members.
Wesak at Nalanda was observed with a packed but meaningful programme from 4 to 6 May.  This year saw a record turnout of more than 2,000 visitors over the weekend.  Everyone came together with strong devotional spirit and added meaning to our celebration.  The activities and events steered all of us towards the cultivation of loving-kindness, generosity and much peace.
Metta Bhavana (meditation on loving-kindness) held during Wesak's "Night of Peaceful Celebration" was very well-received.  One could feel the aura of peace and goodwill throughout the place.  We were uplifted to witness the efforts by Nalanda's youth, who ably organised the Heritage Procession and gave a refreshing perspective of the Dhamma through a lovely stage performance.  All in, there was a wonderful synergy as the young and old worked and served together harmoniously, sharing a common purpose, united in faith and spiritual kinship.
The Management Committee would like to thank all who volunteered, contributed and participated in our programmes this Wesak!  It was heartening to have such dedicated and joyful volunteers, who amply demonstrated our core values of Service and Humility.  Big-hearted donors, imbued with much generosity, also gave unreservedly to support our educational mission.  Sadhu anumodana to all of you!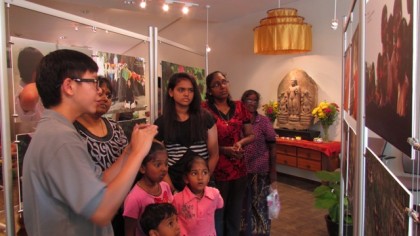 Engaging the community at the Buddha Jayanti Exhibition "Path to Well-being".
Mass Food Offering to the public – Finding happiness in humbly serving and giving.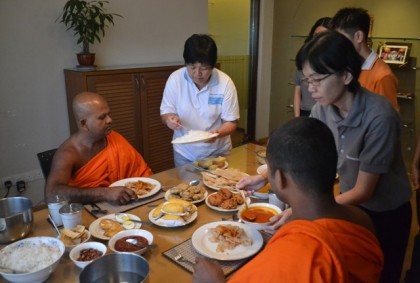 The practice of giving, Dana, should be accompanied by faith, humility and mindfulness.
Selfless giving, in this case donating blood, is also a worthy achievement in life.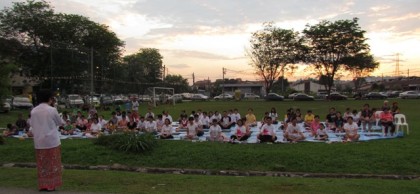 Open-air Metta Bhavana on Wesak – "May all beings near and far, be well and happy."
The 'green' Buddhist Heritage Procession with hand-made paraphernalia and traditional costumes is a unique Nalandian tradition and an inspiring experience for the participants.
Carrying the Sedan symbolizes upholding the Buddha-Dhamma with faith and devotion.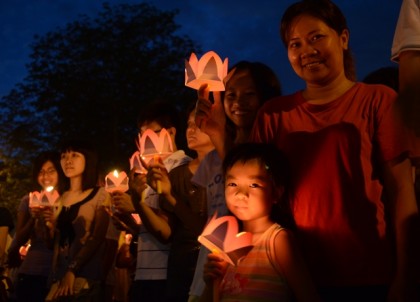 Candle-light Procession on Wesak – "May the light of wisdom, dispelling all darkness, shine upon you and I."
Excellent stage performance by students of Nalanda Dharma School on the story of Lady Uttara and Sirima.
"Hatred cannot cease through hatred; through love is hatred overcome."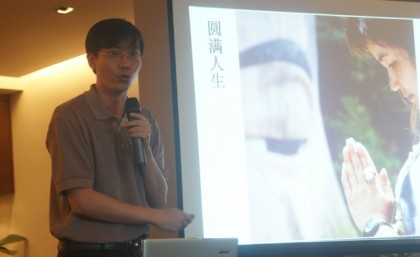 Opportune hearing of the Dhamma is a supreme blessing.  Bro Teoh Hee Chong delivering a Dharma talk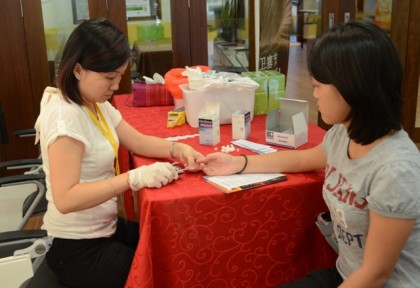 Healthy lifestyle and regular health-screening ensures physical well-being.
Being Well begins with Me!  Let us continue with our relentless efforts to achieve well-being physically, mentally, domestically, economically, socially, and spiritually.  At Nalanda, we have further lined up a series of programmes to facilitate this effort.  All are welcome to join us to embark on this journey towards greater Well-being!
In addition, the Nalanda Bulletin Issue No. 9 (Special Wesak Edition), with reports on Nalanda's recent as well as upcoming events, is now available.