Nalanda Buddhist Society members and devotees extend our felicitations and warmest wishes to Venerable Dr. Henepola Gunaratana Nāyaka Thero on his 89th birthday today!  Popularly known as 'Bhante G', Ven. Gunaratana is a renowned meditation teacher and author of several influential works, such as the best-selling 'Mindfulness in Plain English'.
Ven. Gunaratana was a resident bhikkhu at the Brickfields Buddhist Temple (also known as the 'Buddhist Māha Vihāra' today) in Kuala Lumpur from 1958 to 1968, assisting the late Venerable K. Sri Dhammananda Nāyaka Thero to propagate Buddhism in Malaysia.  In 1968, he left for the United States to take up residence at the Washington Buddhist Vihāra.  He completed his Masters and Doctorate degrees in the USA and became the Sangha Nāyaka Thera (Chief monk) of North America. In 1985, Ven. Gunaratana founded Bhāvanā Society in West Virginia, where he still serves as President and Abbot.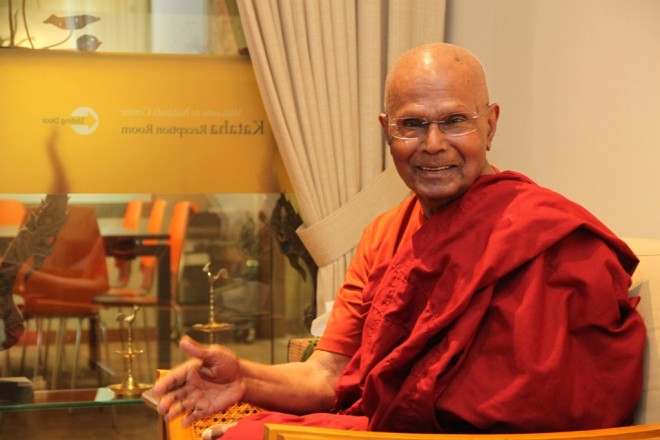 Nalandians are honoured to be associated with Ven. Gunaratana and privileged to have received his teachings and guidance since Nalanda's establishment in 2003.  We were fortunate to host Ven. Gunaratana at Nalanda Centre Sri Serdang and NEO Centre Johor Bahru on his most recent visit to Malaysia from 6 to 15 January 2016.
Happy birthday, Bhante!  May you live long in the best of health!
NOTE :
A blessing service will be held in honour of Ven. Gunaratana at Nalanda Centre on Wednesday 7 December, at 9.30pm, after the regular weekly meditation session.  All are welcome to participate.