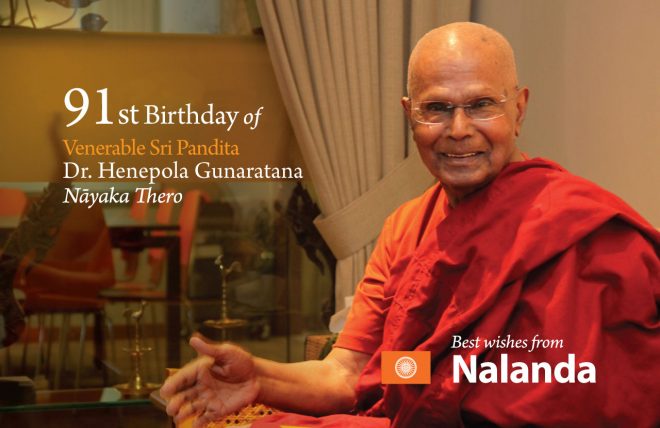 Nalanda members would like to extend our best wishes and warmest felicitations to Venerable Dr. Henepola Gunaratana Nāyaka Thero on his 91st birthday today!  Popularly known as 'Bhante G', Ven. Gunaratana is a renowned meditation teacher and author of several influential works, such as the best-selling 'Mindfulness in Plain English'.
Ven. Gunaratana was a resident bhikkhu at Buddhist Mahā Vihāra in Kuala Lumpur from 1958 to 1968, assisting the late Venerable K. Sri Dhammananda Nāyaka Thero to propagate Buddhism in Malaysia.  Ven. Gunaratana currently resides at Bhāvanā Society in West Virginia, U.S.A., where he serves as Founder-President and Abbot.
Nalandians are honoured to be associated with Ven. Gunaratana and privileged to have received his teachings and guidance since Nalanda's establishment in 2003.  We have benefited tremendously from his wise teachings and benevolent guidance.
We shall be dedicating tonight's Uposatha Pūja at Nalanda Centre to him.  Happy birthday, Bhante!  May you live long in good health and spirit.