On 1 May 'Nalanda Day', the new batch of elected office-bearers took their 'pledge of service', in a simple ceremony at Nalanda Centre, Sri Serdang. The new Board was elected at the Society's 16th Annual General Meeting held on 17 March, with nine out of eleven members retained.  Bro. Vincent Lee and Bro. Pee Che Yong retired from the Board after serving two continuous terms, with much appreciation from members.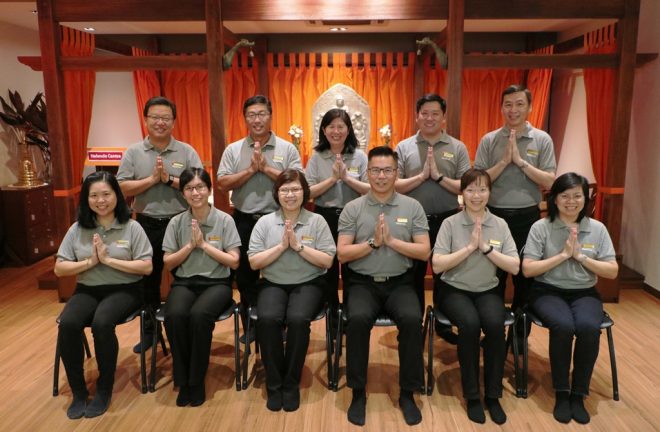 The Board of Management for 2019 – 2021 is as follows:
President : Sis. Evelyn Chow
Deputy President : Bro. Charlie Teng
Honorary Secretary : Sis. Santi Cheang
Honorary Treasurer : Sis. Chan Mei Yee
Assistant Secretary : Sis. Livin Leow
Assistant Treasurer : Sis. May Wong
Board Members : Sis. Joyce Lim, Bro. Lee Kong Foo, Bro. Louis Chan, Bro. Tan Say Kee, Bro. Alex Loo.
We congratulate the newly-elected Board members on your installation.  Together, we shall move forward and upward in service to Buddha-Sāsana!