Nalanda Centre was honoured to receive a visit by the Minister of Communications and Multimedia, Yang Berhormat Tuan Gobind Singh Deo on Wesak 'Buddha Day'.  He is also the Member of Parliament for Puchong, which covers Sri Serdang where Nalanda Centre is located.
Upon arrival, YB Gobind Singh was warmly welcomed by Nalanda Deputy President Bro. Teng, EXCO Member Bro. Lee Teik Beng, officers, members and devotees.  He went around touring Nalanda Centre and dropped in at the 'Buddha Jayanti Exhibition', 'Wisdom Park Corner', and paid respects to the Buddha at the Main Shrine Hall.
YB Gobind Singh addressed devotees after the Morning Service and thanked everyone for the heart-felt welcome he received at Nalanda Centre.  He emphasised that the uniqueness of Malaysian culture and the success of the country lies upon harmony between people of different faiths and ethnicity.  He further wished Malaysian Buddhists a joyful celebration of Wesak.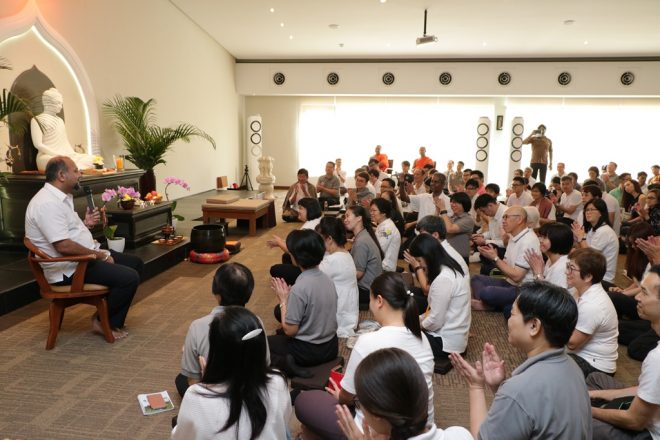 Nalanda founder Bro.Tan in his speech said it is important for leaders to always uphold integrity and to remain humble and modest.  In the history of mankind, arrogant leaders have often fallen into ignominy and become despised by people.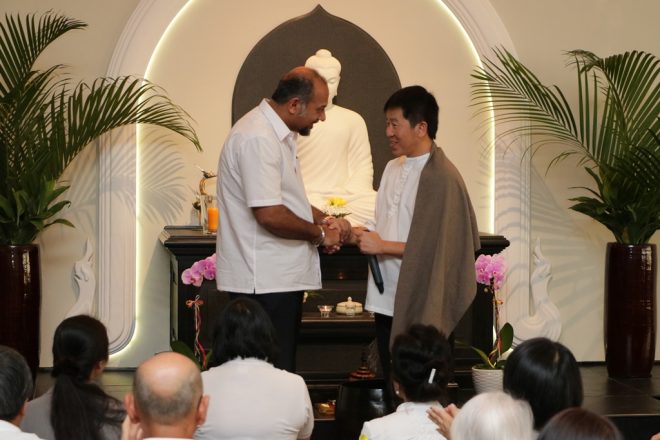 Bro.Tan felt optimistic that with good ideas and policies for better governance of the country, the citizens of Malaysia will cooperate with the government to move the country forward.  He further wished YB Gobind Singh all the best in his endeavours to lead his ministry.  "May you Sir, your loved ones, your staff and helpers at work – be healthy, happy and peaceful.  Thank you very much for visiting us on this important occasion for Buddhist devotees," said Bro.Tan to YB Tuan Gobind Singh.