'Bhikkhu', the Pāli word for monk, literally means one who goes on alms.
On Saturday, 1 June, a team of Nalandians and volunteers gathered at the NEO Centre in Happy Garden early in the morning for chanting and invocation. Having taken refuge in the Three Jewels and undertaken to observe the Five Precepts properly, with renewed aspirations, the team set out to the Taman O.U.G. market and prepared to commence the Pindacāra (alms-round).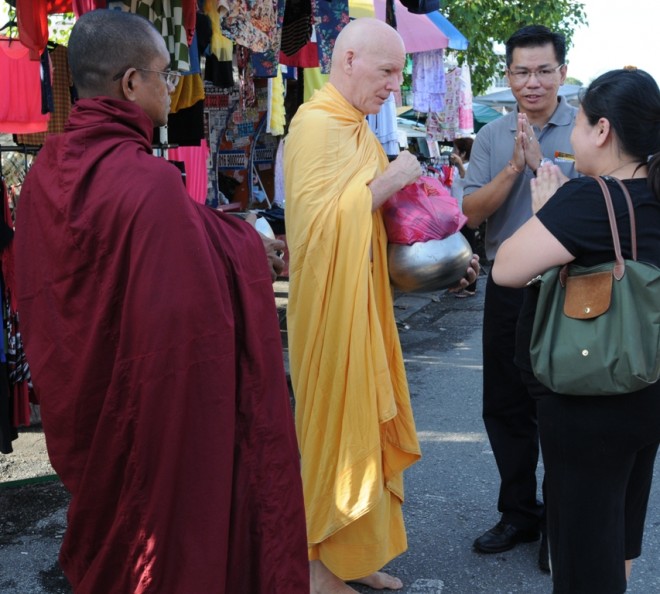 The Pindacāra is a good opportunity for laypeople to meet and offer alms to monks on a regular basis.
Now a regular programme in this neighbourhood, many devotees, market-goers and market vendors were joyously and patiently waiting to offer alms-food to the venerables. While some sedately made their offerings, others were all-smiles and eager to exchange a few words of encouragement and kindness. What a wonderful opportunity for the monks and members of the public to engage with each other!
Rejoicing in the wholesome deeds of others also generates a lot of joy and merit!
Continuing with this public outreach and education platform, Nalanda is organising the Pindacāra on the next two Saturdays (8 & 15 June) at 8.30am at the Seri Kembangan morning market, off Jalan Besar.  All are welcome!