Nalanda Buddhist Society Malaysia Board of Management 2013-2015.  Congratulations on being elected!  The Board has already convened their first meeting at 2pm today, mere hours after the AGM.
Nalanda Buddhist Society Malaysia's 10th Annual General Meeting (AGM) was held on Sunday, 24 March.  President Mr. Lee Kong Foo, convened the meeting with the President's Address, summarising the Society's highlights and achievements in the past year.  Nalanda Founder Bro. H S Tan, offered inspiring advice and shed positive new light on the direction and future of Nalanda, while reminding all members to uphold the Nalandian culture and spirit.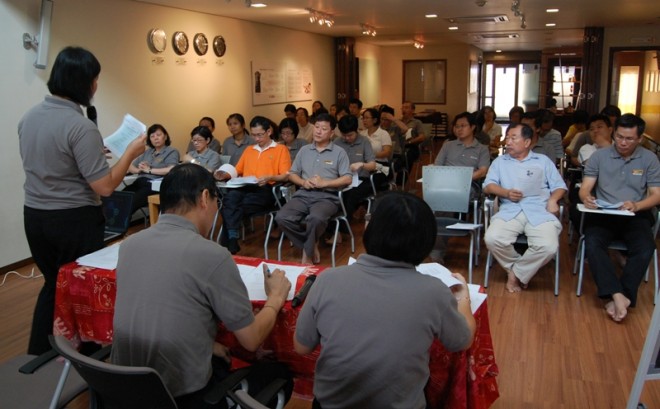 Sis. Buddhini going over the main points of the Secretary's Annual Report.
Members voting in the election for the Board of Management.
After the members received and approved the minutes of the previous AGM, the Honorary Secretary Sis. Buddhini Tan, and Honorary Treasurer Sis. May Wong, presented the Secretary's Annual Report and Treasurer's Financial Report respectively.  Following this, the Board of Management for 2013-2015 was elected.  This is the first two-year term Board of Management for Nalanda, following the constitutional amendments of January 2013.  Sadhu to the newly-elected members of the Board!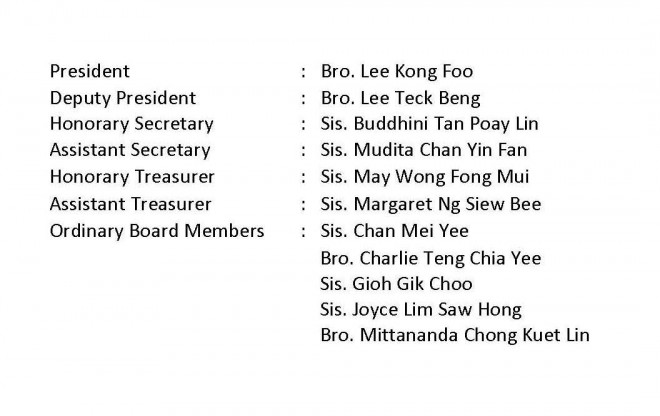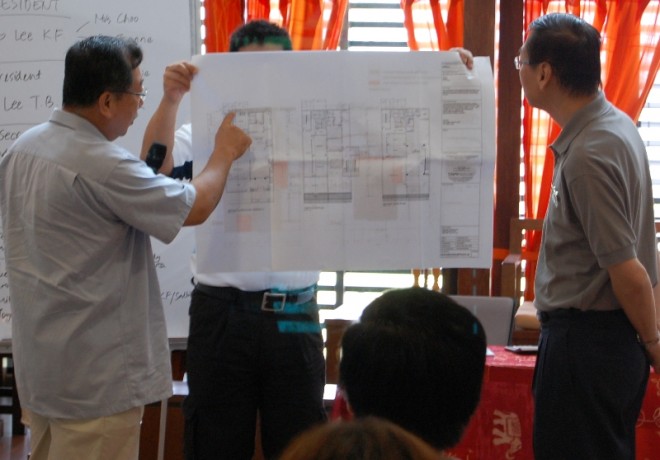 Mr. Ng Poh Kwang (left) explaining the Nalanda Centre's building extension plan.
Before the meeting was concluded, the Building Committee represented by Mr. Ng Poh Kwang shared the extension plan for Nalanda Centre, which is scheduled to be carried out later this year.  This project is necessary to cater for the ever-increasing needs for holistic Buddhist education in the community.  May the light of Dhamma continue to shine for the benefit of all!