1 January 2012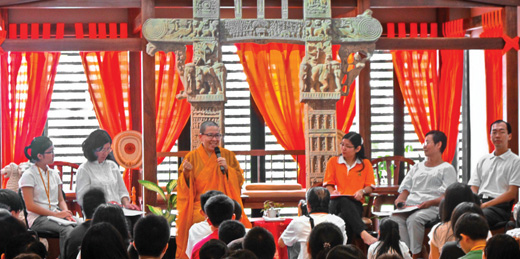 A dialogue session with Venerable Man Ya marked the first Service Sunday for 2012. Four representatives from different age groups, namely retirees, working adults, parents and children, discussed the topic "Promoting Social Harmony in Our Daily Lives".
The engaging session spawned many questions, to which Venerable Man Ya addressed patiently, clearing the audiences' doubts with frequent emphasis on right understanding. Venerable Man Ya encouraged those present, especially the elderly, to be humble and learn to let go of their egos to prevent misunderstandings in daily life.
As for parents and adults, being open-minded while constantly imparting good qualities to the younger generation allows the youngsters to learn and grow happily. Mirthful smiles were seen on the faces of youngsters when Venerable Man Ya urged all parents to encourage their children to talk more, instead of merely wanting them to obey imposed rules. A lunch dāna offered by devotees was held shortly after the dialogue session.