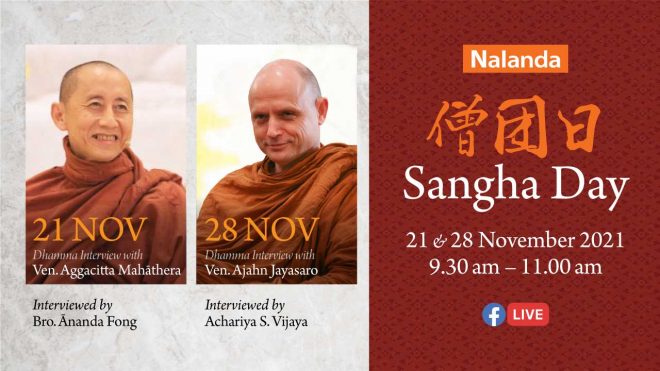 'Sangha Day' is an important occasion at Nalanda for the lay community to honour the virtues and contributions of the Māha Sangha (monastic order) in preserving and propagating Buddhism.  Besides offerings of robes and requisites, we can also venerate our teachers by learning, reflecting, and improving ourselves in accordance to Dhamma.
This year, we are honoured to observe Sangha Day by hosting two special interviews with the most respected Ven. Aggacitta Mahāthera and Ven. Ajahn Jayasaro over two Sundays – 21 and 28 November respectively.  We look forward to gaining valuable insights from their wise advice and perspective on how we can progress in our Dhamma practice as lay people amidst the impact of the pandemic.
We welcome all of you to celebrate Sangha Day together.  Do share this programme with your loved ones and kalyana mittas, so that we can observe this significant event together by learning from revered monastic teachers.  Namo Sanghaya!