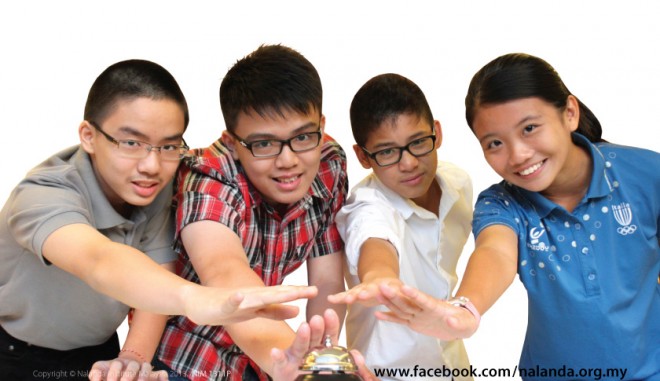 How well do your children know the Dhamma?
Nalanda Institute Malaysia is organising The Young Buddhist Quiz on 31 August 2013. This friendly competition is open to Malaysian youths aged 13 – 16.
Come and test your Buddhist knowledge!
Rules and Regulations
Eligibility:
The quiz is open to all Malaysian youths (except members of the organising committee) aged 13 to 16 years as on 1 July 2013.
Each participating team shall consist of four (4) contestants.
Each team shall have a teacher-mentor who will be the contact person pertaining to the quiz.
For Dhamma School participation, each School is allowed to submit multiple entries.
Application may be made by completing and submitting the "Buddhist Quiz Application Form", which can be downloaded here. Only one form is needed for each team.
A photocopy of the identity card of each team member is required for verification.
The parent or guardian of each participant must indicate that permission has been granted to his/her charge to take part in the competition by signing on the application form.
The duly completed form must reach Nalanda on or before Friday, 31 May 2013. Please send the form to:
Nalanda Institute Malaysia
3357, Jalan 18/31, Taman Sri Serdang,
43300 Seri Kembangan,
Selangor.
Confirmation of participation in the competition will be deemed as acceptance of the rules and regulations set out by the organising committee.
The Competition:
Questions submission:
Each team is to submit a minimum of 40 quiz questions following the sample format provided by the organizer according to the following categories:
• Life of the Buddha
• The Great Disciples of the Buddha
• The History and Development of Buddhism
• Buddhist Symbols and Temple Complexes
• Basic Doctrine including The Four Noble Truths, The Noble Eightfold Path and The Law of Kamma
Competition:
1st Level: To qualify twelve (12) best performing teams to proceed to the 2nd Level.
2nd Level: Six (6) best performing teams to proceed to the 3rd Level.
3rd Level: Three (3) best performing teams to qualify to the Final Level.
Final Level: To qualify as the Champion team and 2 runner-up teams.
Competition Date:
Buddhist Quiz Application Form and Questions submission:
Closing date:  Friday, 31 May 2013
Actual competition:
Saturday, 31 August 2013, 9:00am – 5:00pm at Nalanda Centre, Sri Serdang.
Scoring Method:
The team with the highest aggregate score will be declared the Champion.
Awards and Prizes:
• Best individual participant (with the highest personal score).
• Champion Team, 1st Runner-up and 2nd Runner-up.
• A Challenge Trophy will be presented to the Champion Team.
Rules and Regulations of The Young Buddhist Quiz are subject to change.
Decisions of adjudicators and judges are final.
Rules and Regulations (in PDF)
Sample Questions