16 October 2011
Life is really testing…
Blood Donation Campaign
The campaign was co-organized by BCA and the National Blood Centre (Pusat Darah Negara). 111 donors registered for the campaign, and 84 bags of blood were collected.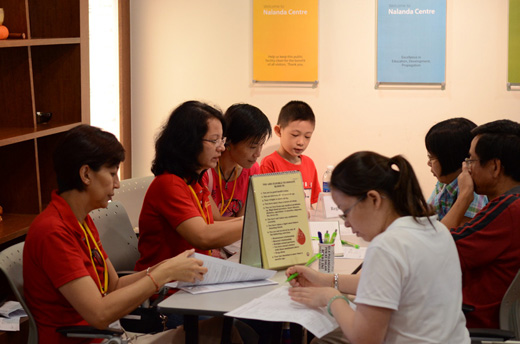 In life, you have to queue, fill up forms…
Health Screening
Checking of Height & Weight
BMI calculation
Body fat percentage
Blood glucose level
Blood cholesterol level
Health Counselling by Volunteer doctors
(a) Dr. Ong Tien Kwan
(b) Dr. Kong Wei Yen
(c) Dr. Ch'ng Tong Wooi
…and occasionally, you get poked.
Statistics
197 adults & 35 children went through the screening. In total, 232 people benefited from the health screening & counselling.
Activity
Information
Results
Health Talks

Dr. Poh Bee Koon
Topic : "Healthy Eating, Healthy Lifestyle"
Dr. Oo Swee Khoon
Topic : "Preventing Common Childhood Diseases"
Dr. Phang Cheng Kar
Topic : "MINDFUL-GYM"
Professor Dr. Mary Huang Soo Lee
Topic : "Prevention of HIV/AIDS"

About 60 people attended these health talks held at Level 4, Nalanda Centre.The audience benefited tremendously from the sharings of these healthcare professionals.
Health Exhibition
Informative posters related to health issues were displayed for public viewing.
97 people visited the exhibition
Family Counselling
Counsellor Bro. Aggaphala Yap Hock Heng spent on average 1½ hours to meet each family.
4 families benefited from the counselling service.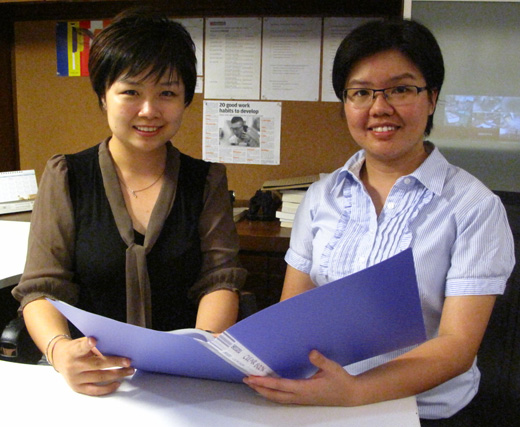 Earnest Nalandians Sis Sunandā (right) and Sis Sadhikā (left) meticulously planned and organized the health campaign. Sādhu to their efforts!
"The effort to promote physical well being should be continuously encouraged. To keep the body in good health is a personal responsibility and priority; otherwise we will not be able to live a happy, fulfilling life."
– Sunandā Ong, Project Coordinator
"When I was pursuing the course 'Nutrition and Community Health' in UPM, I aspired to help my family and friends understand the importance of good health. During my university years, Nalanda has given me the inspiration to serve an even wider community! And through this event, I'm truly blessed to have fulfilled those wishes."
– Sadhikā Tan, Project Coordinator
Thanks, Volunteers!
46 people registered as volunteers for the Healthy Living Programme, comprising 26 BCA members and 20 UPM students. On top of that, there were 3 volunteer doctors, 4 invited speakers, and blood bank staff members who all served happily together.

Seremban Sudhamma Buddhist Society has taken over the rotating chairmanship of Buddhist Community Alliance from Nalanda on 1 December 2011. Its President, Dr Oo Swee Khoon, will chair the BCA's Coordinating Committee for 6 months until 30 April 2012.