On Saturday 20 May, Nalandians gathered with much enthusiasm for the monthly 'Pindacāra' programme at Seri Kembangan morning market.  The regular alms-round allows lay people to learn how to perform the offering of almsfood properly, as well as why it is important to support the Buddhist monastic order.
This round of 'Pindacāra' was very special as two bhikkhunis (nuns) from Sri Lanka took part, instead of the usual bhikkhu (monk) Sangha.  Devotees were delighted to welcome the nuns, who weaved mindfully through the alms-route and inspiring people of all walks of life to offer them food.
As many devotees take part in this programme frequently, it is important to reflect on the spirit of generosity.  There is something amazing about a person happily giving up what they own to benefit other people.  Unconditional generosity goes against the way of a stingy and selfish world.  When one gives with pure compassionate thoughts, it is considered a most wholesome and noble act.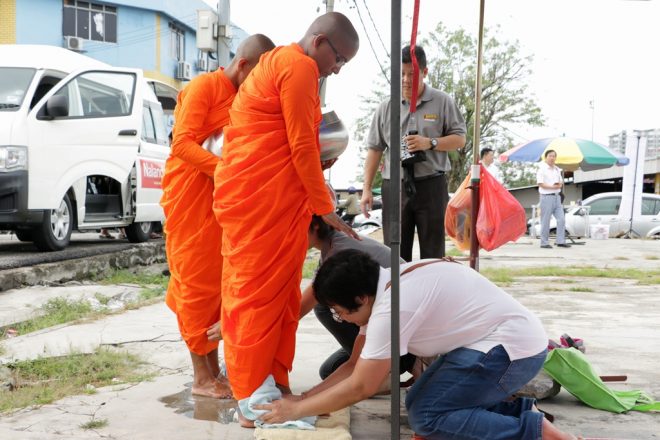 As such, let us continue to perform acts of generosity with Right Understanding.  Let us also rejoice over the wholesome deeds of others. May this noble practice of giving and caring lead us to progress in the spiritual path.  Sadhu anumodana.
Note :
The next alms-round in Seri Kembangan will be held on Saturday, 15 July, at 8.30am.  All are welcome to offer cooked food and ripe fruits to the venerables on 'Pindacāra'.