Thursday 31 August marked the 11th anniversary of the passing of Nalanda's late spiritual adviser, Venerable K. Sri Dhammananda, as well as being Malaysia's 60th National Day.  Nalanda founder Bro. Tan delivered a Dhamma talk on gratitude to commemorate these two occasions.
In his talk, Bro. Tan reminded us that seemingly common facilities and comforts we enjoy today such as piped water, electricity, roads and hospitals are in fact the result of sacrifices and hard work of many people who came before us.  Today we should commemorate not only national heroes but also the countless ordinary folks who had carried out their duties with integrity.  Hence, any national or significant events are good occasions to reflect with gratitude.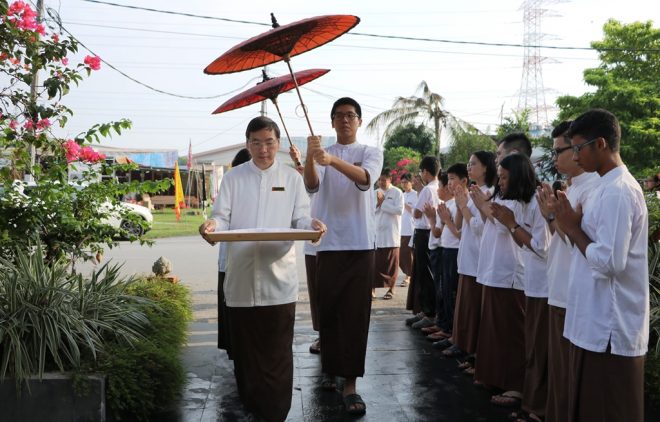 Kataññutā (gratitude) is vital for spiritual breakthrough.  A person without gratitude is not a Dhamma practitioner.  The first unspoken lesson that the Buddha taught was of gratitude, when He spent 7 days gazing at the Bodhi tree which had sheltered Him before Buddhahood.  We need to be grateful for the Dhamma, and for the teachers who taught and preserved it.  Thus, as students of the Dhamma, it is our duty to practise faithfully and to pass on the teachings to future generations.
Bearing gratitude brings us joy, satisfaction, happiness, and fulfillment; with gratitude, we become truly 'wealthy'.  Our lives become more qualitative and transformative as our minds change for the better.  The mark of a mature Dhamma practitioner lies in the continuation of the flow of gratitude − being aware that the opportunities to serve others and to do good now, are due to good seeds planted in the past.
In the Anguttara Nikāya, the Buddha spoke about two types of persons that are rare and noble − firstly, the one who does good without being prompted by others; and secondly, the one who bears gratitude.  Bro. Tan urged everyone to think deeply about becoming the rare and noble ones who live their lives in gratitude.
We thank Bro. Tan for his insightful and reflective teaching.  May the practice of gratitude nourish and support our spiritual journeys until the attainment of liberation.  Sadhu kataññu!