On 5 & 6 January 2013, Nalanda Institute Malaysia (NIM) conducted a two-day teacher's training programme at Uttama Bodhi Vihara in Bandar Utama, Petaling Jaya. The 35 existing and aspiring Dhamma School teachers who participated in the weekend programme gained much knowledge and inspiration to further the noble cause of Buddhist education.
We thank Bandar Utama Buddhist Society (BUBS) Dhamma School for initiating this idea and inviting Nalanda Institute to design and conduct the programme. There were four sessions in the programme: 'Creative Thinking in Teaching' conducted by Bro. Tan Siang Chye, 'Educational Psychology' by Bro. Teoh Hee Chong, Mock Teaching session moderated by Institute Director Mr. Vijaya Samarawickrama and Lecturer Sis. Yee Sook Fen.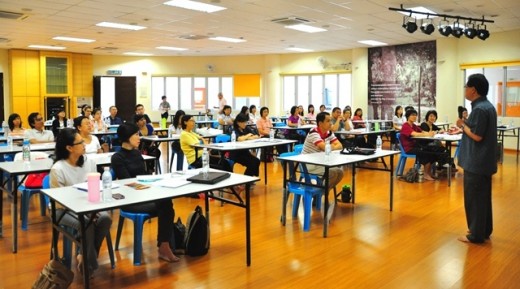 Positive comments were received on the overall programme, with special mention on the mock teaching and dialogue sessions. With right effort, the participating Dhamma School teachers can leverage on the knowledge and skills learnt during the programme, and together with right understanding of Buddhist values and culture, educate and inspire our next generation! Sadhu anumodana.
"There are two qualities that a Dhamma school teacher has to possess – Compassion and Competence.
"Compassion is a spiritual quality; it guides our intention to serve.  Competence is our capability to serve.  A teacher has to be competent in terms of knowledge, skills, values, and culture."