The dramatic and spectacular 2016 Olympiad had just come to a close.  For two weeks, the world got to witness amazing displays of athleticism and human achievement.  What's more inspiring were the authentic moments of great sportsmanship and humanism.
One such incident happened on Tuesday in the Women's 5,000 meter race which involved two competitors who collided, tripped, and fell.  What happened next was the stuff of legendary Olympian spirit.
As the race got under way in the Olympic Stadium, New Zealand runner Nikki Hamblin stumbled and fell, accidentally tripping Abbey D'Agostino of the USA.  D'Agostino helped Hamblin back to her feet – but the American had injured her leg in the incident.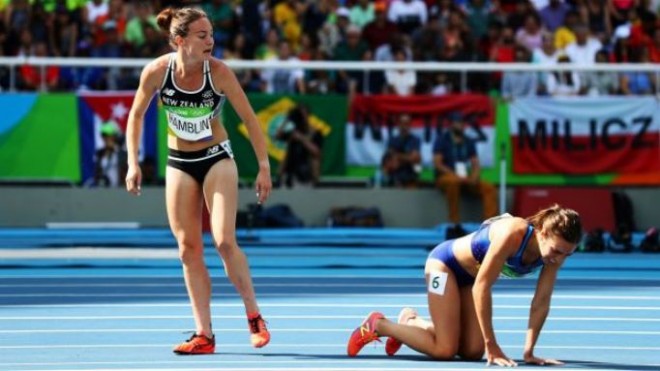 When it gave way and she slumped to the track seconds later, Hamblin then helped her up and stayed by her side to make sure she was okay.  Hamblin only resumed the race at the Olympic Stadium when she knew D'Agostino was over the worst.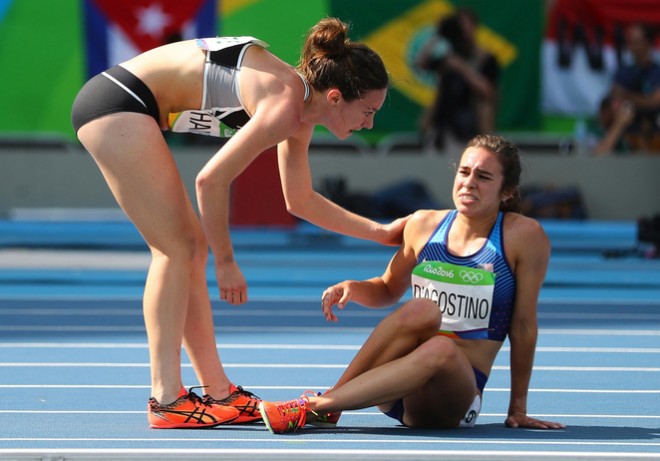 Hamblin waited at the finishing line to greet the American – who hobbled through the pain to complete the race and was helped away in a wheelchair – with a heartfelt hug.  Fans in the Rio stadium cheered and applauded the outstanding display of sportsmanship from both competitors.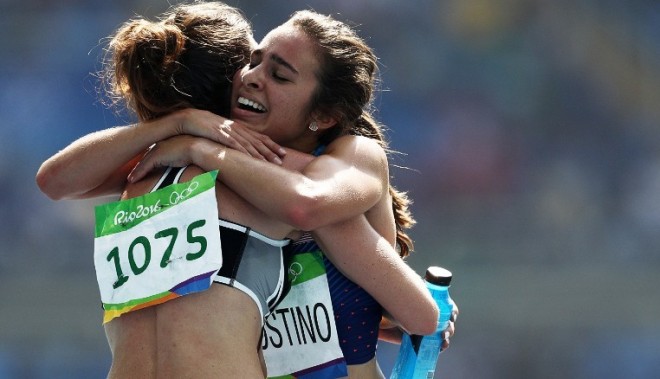 Hamblin praised D'Agostino, telling reporters: "That girl is the Olympic spirit right there."
She added: "I went down, and I was like: 'What's happening? Why am I on the ground?'
"Then suddenly there was this hand on my shoulder and she said: 'Get up, get up, we have to finish this.' I was like: 'Yup, you're right. This is the Olympics. We have to finish this.'"
"Regardless of the race and the result on the board, that's a moment you're never ever going to forget for the rest of your life – that girl shaking my shoulder, like: 'Come on, get up,'" she said.