One more, two more!  Participants getting ready for activities by doing warming up exercises.Article by See Hui Shien.
On 19 January, Nalanda Dharma School (NDS) organized the first School trip in 2014 to Putrajaya Wetland with the aims to strengthen the bonding among students, parents and facilitators, and impart good values to students through outdoor activities.
140 Nalandians comprising NDS students, parents and facilitators from Nalanda Centre Sri Serdang and NEO Centre at Happy Garden, as well as youths from Nalanda Youth Centre, joined in the trip.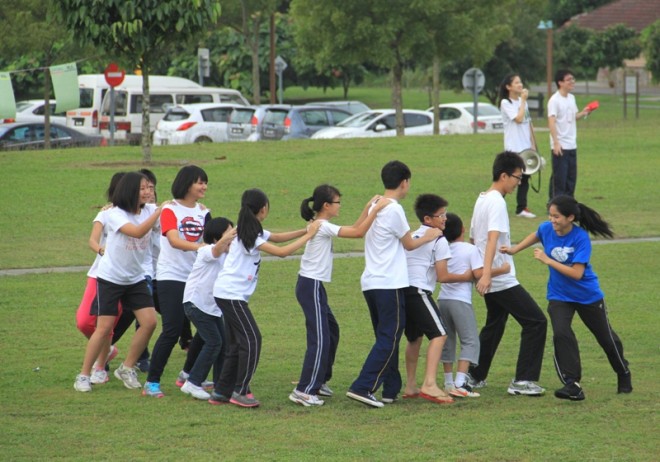 Participants having fun in one of the games – "Catching the Naga's tail".
The beautiful Sunday morning started with warming up exercises to get everyone ready for the physical activities.  After the exercise, parents and students were divided into groups for various tele-match games.  Through the games, students learned about teamwork and friendship.  Sis. Sunanda also shared on ways to live harmoniously in a community.
The session ended at 12pm after refreshments.  All the participants get to know each other better while enjoying a wonderful outing!