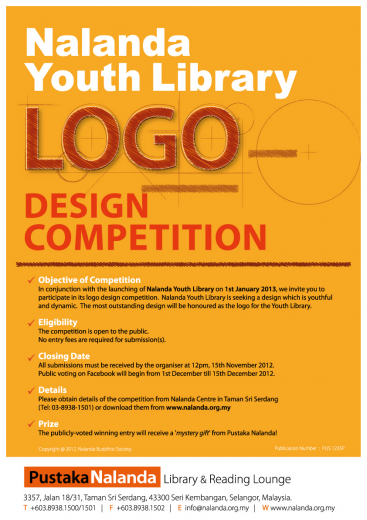 Introduction
The planned establishment of Nalanda Youth Library is part of Pustaka Nalanda's effort to provide useful and quality learning resources to our young, future leaders of the community.  The Youth Library will also support the educational programmes of Nalanda Dharma School, Nalanda Free School, and Nalanda Youth Centre.  The Youth Library will be operated by librarians recruited from Nalanda Youth Centre and Nalanda Dharma School, under the guidance of experienced librarians.

Objective of Competition
In conjunction with the planned inauguration of Nalanda Youth Library on 1 January 2013, we invite you to participate in the logo design competition for the library.  Nalanda Youth Library is seeking a design which is "trusted" and "dynamic", and in line with the library's objectives.  The most outstanding design will be decided by Pustaka Management which will be used as the official logo of the Youth Library.
Prizes
The winning entry will receive a mystery gift from the organiser!
Terms & Regulations
To view details of the terms and regulations of this competition, please click here
Enquiries
All enquiries can be directed to pustaka@nalanda.org.my, or kindly contact Ms. C K Chin at
012-541 6128 or Ms. Santi Cheang at 012-227 9349.
So put your creative hat on and start designing now!
Thank you.