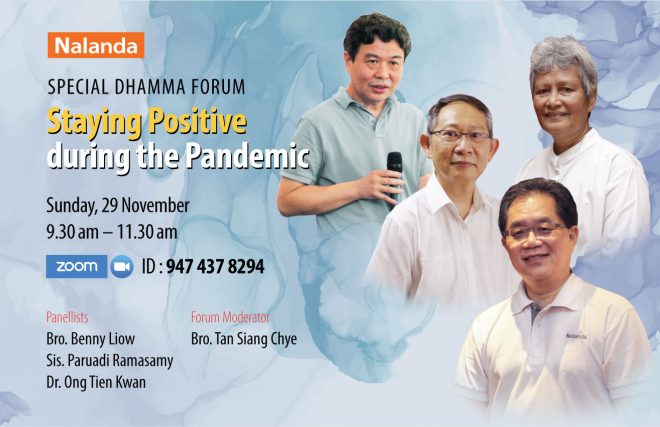 The Covid-19 pandemic and long periods of lockdowns have severely impacted our lives and livelihoods.  These conditions have led to rising levels of anxiety and depression; a study in May 2020 showed that more than half of Malaysians experienced mental health issues during the Movement Control Order.  Therefore, how we direct our minds will determine how we can cope with these unprecedented times of uncertainty.
Nalanda will be organising a special Dhamma forum themed "Staying positive during the Pandemic" this Sunday at 9.30am, live on 'Zoom'.  It is an opportunity for us to proactively learn how we can stay positive with proper learning and reflection of Dhamma.
The forum features Director of Nalanda Institute, Bro. Tan Siang Chye as the moderator, with veteran Dhamma speakers Bro. Benny Liow, Sis. Paruadi Ramasamy and Dr. Ong Tien Kwan as panellists.  They will share with us how we can manage our fears and worries by developing resilience and positivity of mind.
All are welcome to sign in to the session on 'Zoom' ID : 947 437 8294.  Places are limited to 300 participants on a first-come basis.  See you this Sunday.