Every afternoon, anxious Malaysians tune in to their TVs to watch the daily official briefing on the country's Covid-19 situation.  Standing behind the podium with unassuming composure and speaking with a calming voice is the Director-General of the Ministry of Health, Dr. Noor Hisham.  He has been a daily fixture at the press briefings since the Coronavirus epidemic took a serious turn in Malaysia.
Listening to medical experts spewing technical jargons can be a daunting affair for the layperson.  But Dr. Noor Hisham is able to articulate the crisis facing our country in clear, simple language that even village-folks can relate to.  His command of both Malay and English certainly helps a lot to communicate effectively to the public, something extremely crucial in managing disasters.  It is also essential that the spokesperson has good knowledge of the subject matter, and relies on scientific facts to guide his thoughts and decisions.
The citizens of this nation are indeed grateful for having such a distinguished civil servant who takes his role professionally and positively.  When praises were heaped upon him, Dr. Noor Hisham shies away from them and attributed his good handling of the crisis as a team effort.
It is noteworthy that the number of Covid-19 cases in Malaysia has seen a remarkable drop in recent days, giving us hope that the disease will claim fewer casualties.  However, we cannot afford to be negligent now and lower our guard against this invisible threat to our people.  We should continue to practise good personal hygiene and social distancing into the future to ensure that all is clear with the Coronavirus menace.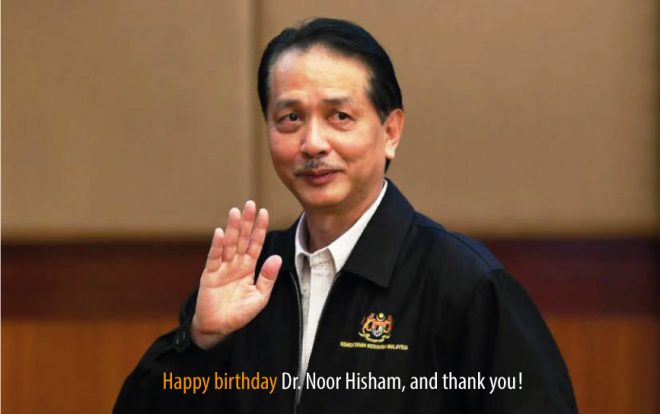 Today marks Dr. Noor Hisham's 57th birthday.  When asked about his wish, he said, "On the occasion of my birthday (on Tuesday, April 21), the most special gift for me will be for Malaysians to remain at home and observe high hygiene standards".  We wish Dr. Noor Hisham a very joyful birthday, and may your wish come true.
Let us also thank all the people who are working hard at the front-lines to protect our citizens from the perils of this epidemic, and for ensuring our safety and well-being.  May all these 'nameless and faceless heroes' be blessed with good health and safety, too.