On Wednesday 8 March, Nalanda Centre was honoured to host Venerable Ajahn Buddharakkhita from Ireland.  As the day also marked the third anniversary of MH370 incident, Nalandians took the opportunity to invite Ajahn for a Dhamma talk after the weekly meditation session.
Ajahn Buddharakkhita spoke about the experience of suffering in the light of Dhamma.  Suffering can be overwhelming when we do not know how to deal with it.  However, with skilfulness and knowledge, it can actually be taken as an object of meditation.
It all begins when we recognise and acknowledge the existence of suffering.  As we learn how to connect with that pain within ourselves and with the pain of others, we develop empathy, care, and understanding.
Ajahn Buddharakkhita claimed that it is a common misconception that having negative emotions such as anger, fear, and weakness is 'wrong'.  In actual fact, those are natural phenomena that are bound to arise.  The important point is what we choose to do with those emotions.  Problems become worse when we lash out and harbour an intention to harm others.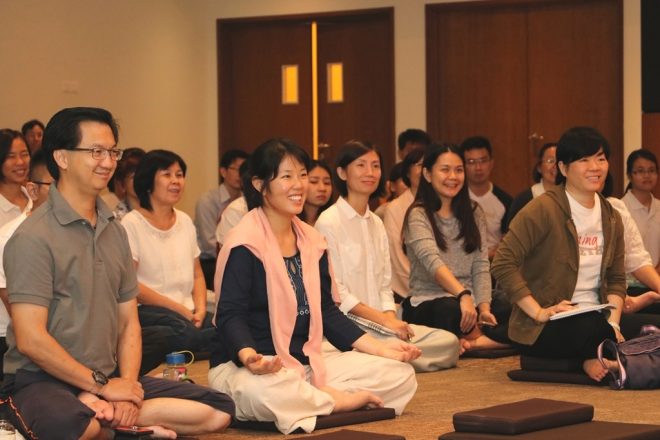 Therefore it is essential for us to cultivate the values of compassion and empathy; and in order to do so, we need 'Right View'.  Having cultivated these qualities, we can connect with whatever hardship we face as well as with the suffering of others.  With this practice comes the realisation that we are in many ways connected to all other beings in the world.
We thank Ajahn Buddharakkhita for the timely teaching.  May the merits accumulated from Dhamma learning and practice be shared with all beings.  Sadhu!